Gobi matar rasedaar is a simple yet tasty curry made with cauliflower, peas in tomato gravy. I always look for something to cook easily as I've a kid who is as naughty as you can imagine 🙂 ..So, this is a recipe to cook Gobi Matar Rasedar which you can cook in a sauce pan with minimum oil and you can adjust the spices according to your taste.
So, sharing a step-wise recipe to make a delicious Cauliflower Peas Curry today. Serve it hot with flat bread like phulka, roti, naan or steamed rice. Click Here to learn to make perfect Oil-Free Phulka ..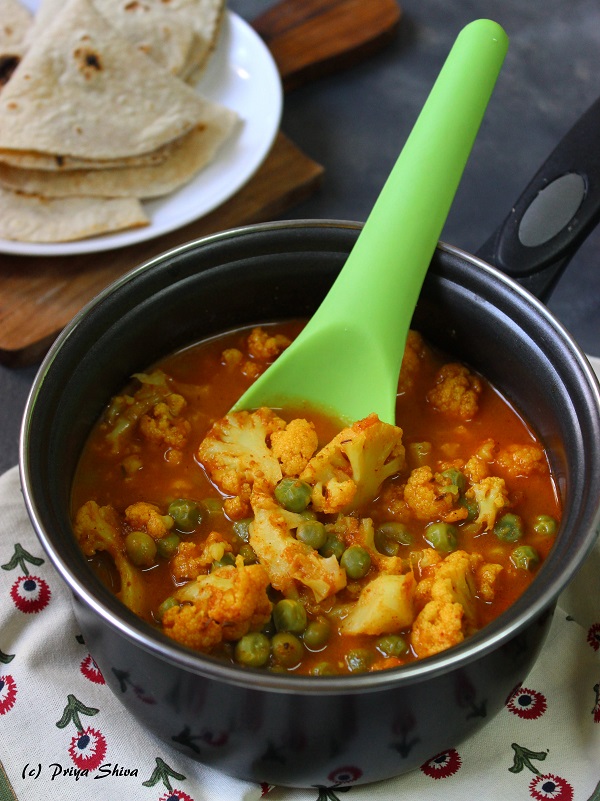 Gobi Matar Rasedar / Cauliflower Peas Curry
Ingredients
Cauliflower florets – 3 cups
Green Peas – 1 cup
Tomatoes – 3 (finely chopped)
Onions – 1 (finely chopped)
Grated Ginger – 1 tbsp
Garlic cloves – 4 (chopped)
Kasuri methi/Dry Fenugreek leaves – 2 tbsp
Cumin Seeds – 1 tbsp
Turmeric powder – ½ tsp
Red Chilli powder – 1 tsp.
Dry Mango Powder/Amchur Powder – ¼ tsp
Garam Masala - 1 tsp
Vegetable Oil – 2 tbsp
Salt to taste
Instructions
Clean and add florets in a pan. Pour 2 cups of water and boil it for a minute with little salt. Let it cool down and drain water.
Finely chop onions, garlic and tomatoes and grind it to a fine paste.
Heat oil in a pan and add cumin seeds. Add the ginger and grounded paste and fry on low medium flame till oil leaves on sides.
Add turmeric powder, garam masala, amchur powder and red chilli powder, and mix.
Add peas and cauliflower florets, kasuri methi and mix well. Add enough water (Approx 2 cups) to cover the vegetables.
Cover the pan and let the vegetables cook in the gravy. keep stirring in between
When the vegetables are cooked and soft, add salt to taste and mix it well.
Serve it hot with some rice or Indian flat bread.
Yum