Sometimes you just need something simple and comforting dishes to prepare for your family or even guests. So, I'm sharing a dinner menu which I have prepared today and going to enjoy with my family. My husband wanted something simple and prepared with less oil. So, I have tried to create a balanced menu with a quick stir-fry veggie, comforting lentil, yogurt, phulka and rice for carb intake.  I can never think of a meal as complete unless I have some dessert 🙂 🙂 So, made some rice pudding which is my little boy's favourite <3
Just click on the names in list for their recipes.
Lunch menu:
2) Gujarati Dal
3) Phulka
4) Peas Pulav
Tips to plan and prepare this menu:
1) Chop all vegetables and refrigerate to use it.
2) You can prepare raita and refrigerate and start cooking the remaining dishes.
3) Prepare the dough for phulkas and keep it ready.
4) I usually pressure cook lentils on one side and start cooking stir fry vegetable simultaneously so that stir fry veggies are ready by the time lentils are cooked.
5) then I move on to preparing rice pudding and pulav and in the end prepare the phulkas.
You can also serve some pickles and add a quick salad platter with carrots, cucumber etc and serve along these dishes.
I'm going to now enjoy this meal with my family and hope you all try these dishes too..
Check other meal planning I have shared on my blog. Just click on the names for the recipes: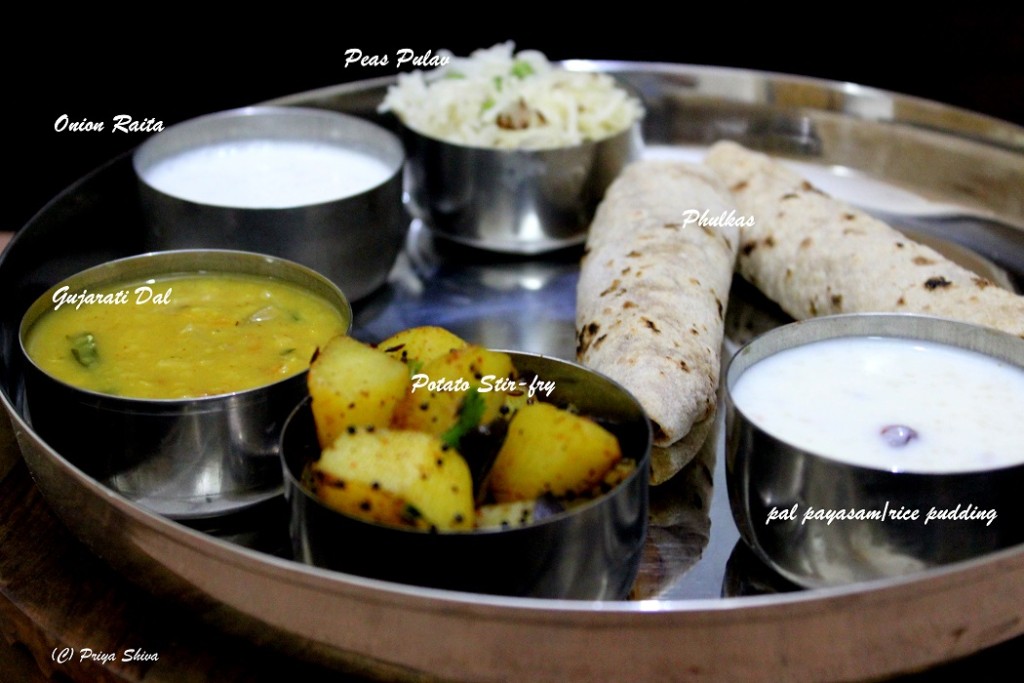 Yum