My In-laws have come to stay with us for a week and its always a pleasure to spend time with them. My little boy specially gets excited as he gets all pampering and gifts from them. Its so much fun to see his excitement as he tries to narrate stories to them with his broken words and keep running behind them wherever they go. After all he's not even three year old and you can imagine how he will be talking with all expressions 🙂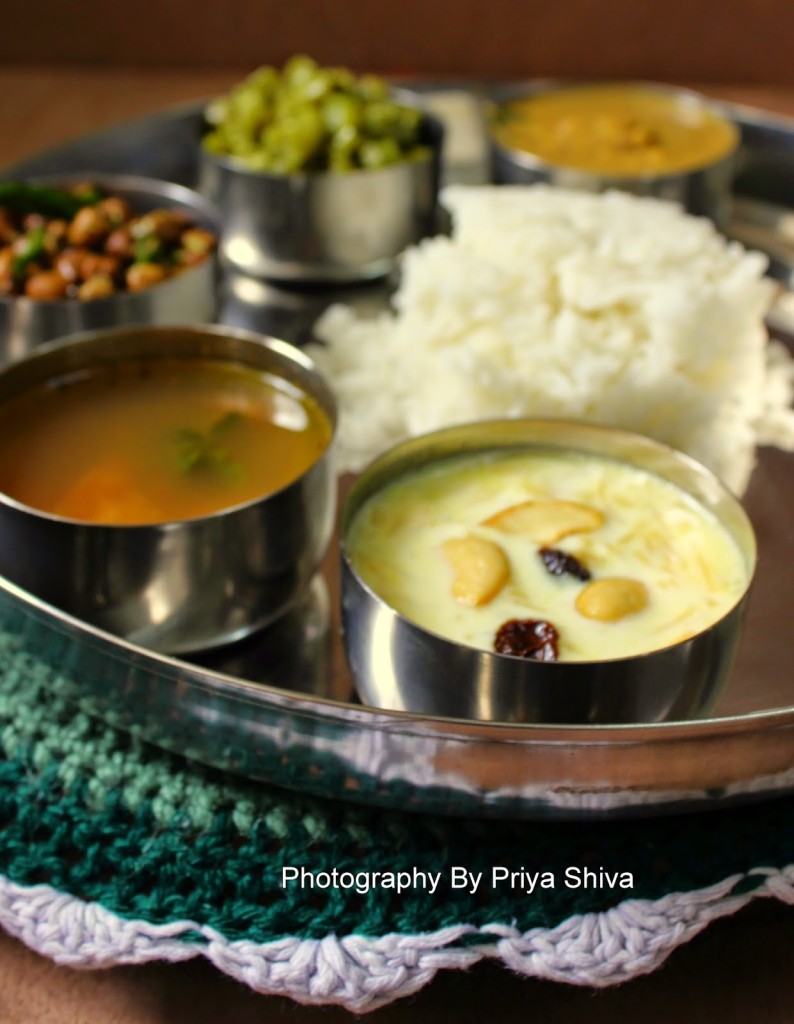 I wanted to cook something good for lunch today. My in-laws usually prefer a South Indian thali and decided to make the listed dishes. All the recipes are already on my blog and I have used minimum oil to cook these dishes. Its a gluten-free menu today (except desert) and all the dishes are very popular and commonly made in any South Indian household. Its a balanced menu with vegetables, lentils, legumes and served with steamed rice. The picture of curd rice is not there in the picture but always an integral part of any South Indian thali. I made some semiyan payasam for dessert. If you plan and keep things ready, you can prepare this whole menu in one hour time.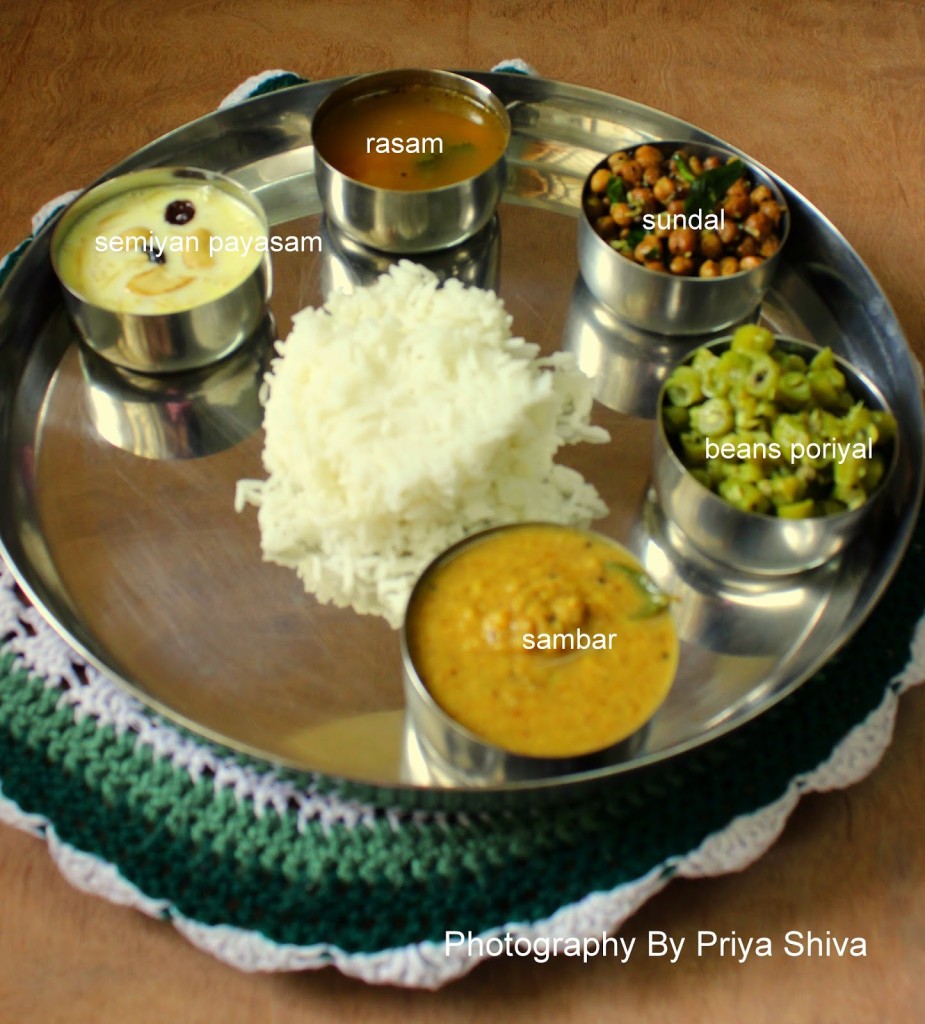 Just click on the names in list for their recipes.
Lunch menu:
1) Arachuvitta Vengaya Sambar
2) Thakkali rasam
3) Sundal
4) Beans poriyal
5) Curd rice
6) Semiyan Payasam
7) Instant Raw mango Pickle
Tips to plan lunch menu:
1) Peel small onions and keep it ready.
2) Scrape or grate the fresh coconut and keep it ready.
3) Chop all vegetables and refrigerate to use it the next day.
4) Soak chickpeas overnight.
5) Soak tamarind to use for rasam and sambar.
6) I usually pressure cook lentils and some rice for curd rice on one side and start cooking stir fry vegetable simultaneously so that stir fry veggies are ready by the time lentils are cooked.
7) Then, I move onto cooking sambar and rasam and prepare dessert only in the end.
8) You can make some quick instant pickle to serve with curd rice.
9) You can also keep some papad or banana/potato chips ready to serve with rice.
My family thoroughly enjoyed this healthy and simple platter and hope you all try these dishes and enjoy with your family 🙂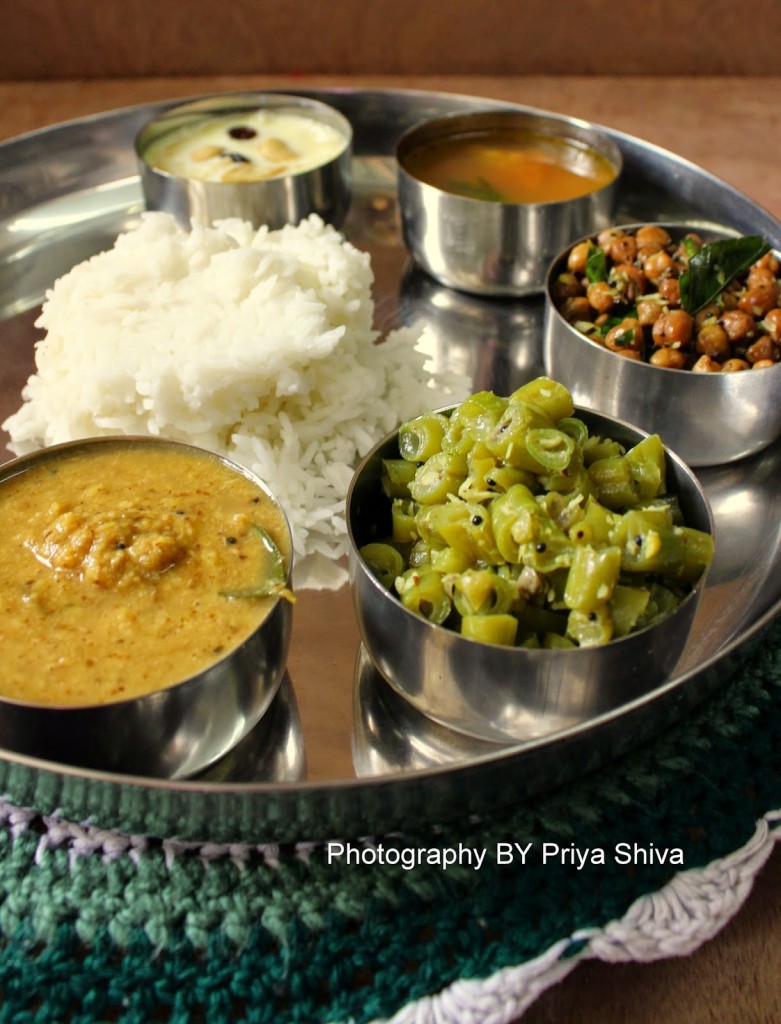 Yum