Sundal is a quick and easy South Indian snack. It is also an integral part of Navratri festival in South India which is given to God as an offering. The most common sundal which is made during Navratri festival is Kondakadalai Sundal or better known as chickpeas sundal. I simply love this snack and its one of the easiest healthy snack which can be prepared with simple ingredients. You can use either white or black chickpeas to prepare this snack. Chickpeas are high in fiber and a very good source of protein specially for vegetarians. So, sharing a quick and healthy snack recipe which you make for your family.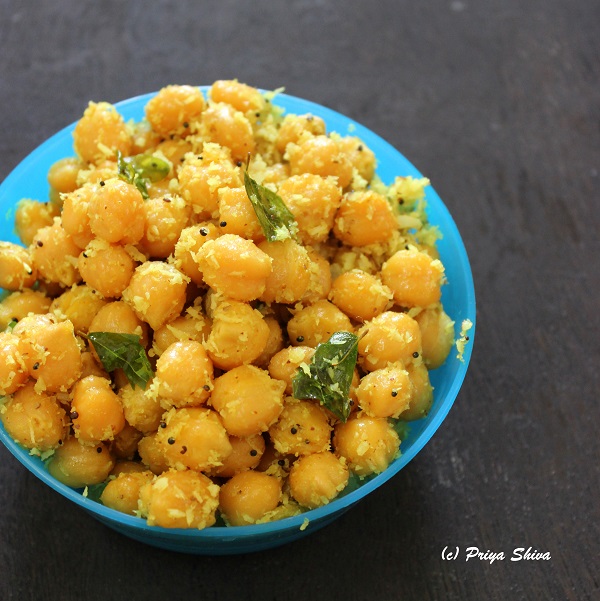 Chickpeas Sundal / Kondakadalai Sundal
A quick and healthy snack made with chickpeas!
Ingredients
Chickpeas - ½ cup
Dry Red chillies - 3
Mustard seeds - 1 tsp
Turmeric Powder - ¼ tsp
Grated coconut - ¼ cup
Curry leaves - 1 sprig
Salt to taste
Vegetable Oil - 1 tbsp
Asafoetida - a pinch
Instructions
Soak chickpeas overnight in some water or for minimum 8 hours. Drain the water and pressure cook chickpeas with enough water and turmeric powder till they are cooked and soft. Drain the water in a bowl. You can drink this water or use it in any soup.
Add oil in a frying pan and when its warm add mustard seeds and a pinch of asafoetida. When mustard seeds crackle, add curry leaves and red chillies. Saute on low flame for 30 seconds.
Now add cooked chickpeas and salt and mix it well.
Remove from the flame and add fresh grated coconut and mix well.
You can serve it as a snack or a vegetarian side-dish.
Yum