Senai Kizhangu kadali puli kootu is another grandma recipe which I'm sharing today. Even while typing the recipe I'm missing my grandma and her awesome cooked food. This is one of the healthy recipes with the goodness of chickpeas, yam and cooked in coconut gravy with other spices.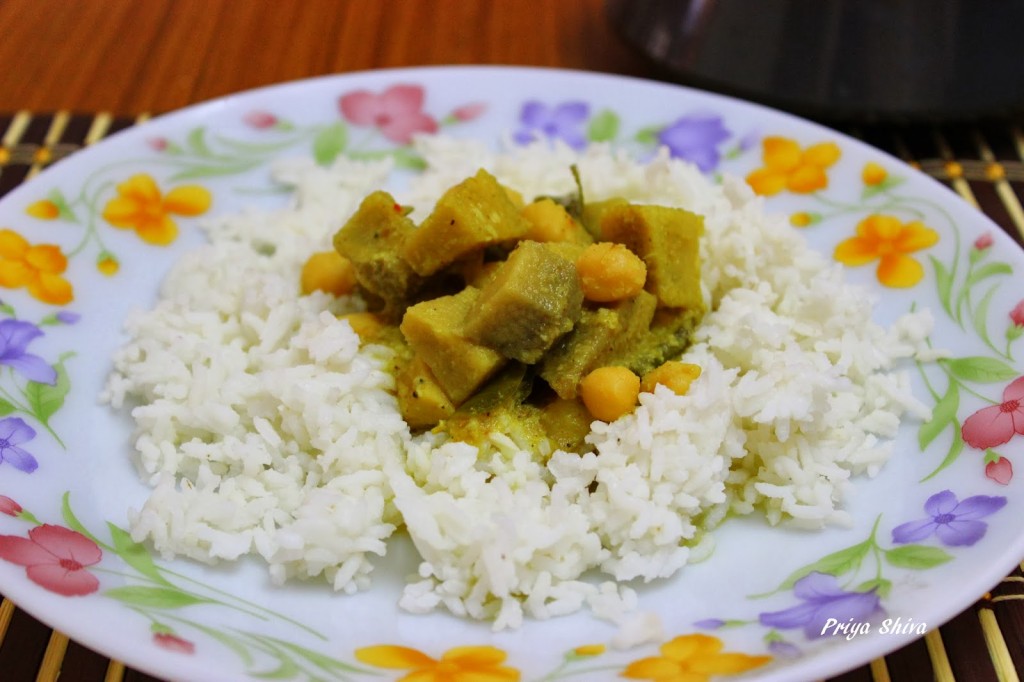 Ingredients:
Elephant foot yam/ Senai Kizhangu – 1 cup ( chopped)
Kadalai/ kabuli Chana / Chickpeas – 1 cup
Toor dal/Pigeon peas – 2 tbsp
Tamarind – a small gooseberry sized ball
Turmeric powder – 1/4 tsp
Black pepper Corns – 1 tbsp
Jeera/Cumin seeds – 1 tsp
Fresh Grated coconut – 1/2 cup
Mustard seeds – 1 tsp
White lentil/ Urad dal – 1 tsp
Asafoetida – a pinch
Curry leaves – 1 sprig
Sunflower Oil/Cooking Oil – 1 tsp
Salt to taste
Method:
1) Soak chickpeas in some water overnight. drain the water and boil it with 3 cups of water till they are cooked and soft. I usually pressure cook in my 3 ltr cooker for 6-7 whistles.
2) Remove the skin of yam, wash it nicely and chop it into small equal pieces. Boil it in a pan with 1 cup of water till its soft and cooked properly.3) Soak toor dal in some water for 30 minutes. Drain the water and cook it separately in 1/2 cup water and keep it aside. Soak the tamarind removing the seeds for 30 minutes in 1/2 cup of warm water. Now drain the water in a separate bowl by removing the pulp.
4) Add coconut, cumin seeds and black pepper corn in your grinder and make a paste of it by adding little water.
5)  Now add cooked chickpeas, yam, pigeon peas in a pan with coconut paste and mix it well and keep it for boiling.
6) Add salt and turmeric powder and mix it well.
7) Once it starts boiling add tamarind water and mix it well. When all the ingredients combine and it starts thickening remove from gas stove.
8)  Add oil in small frying pan and add asafoetida, white lentil and mustard seeds. 
9) When mustard seeds crackle add curry leaves and saute for few seconds and add this to the kootu.

Serve it hot with rice or chappati / roti.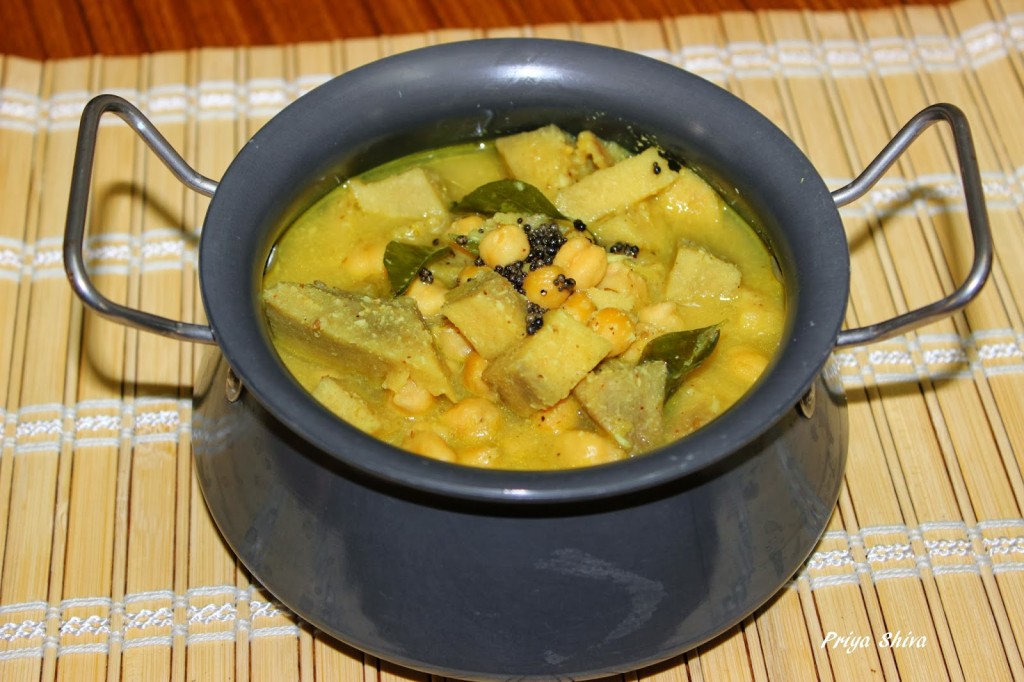 Yum