Vegetable tahiri or tehri is an aromatic rice dish from state of Uttar Pradesh in India. It is part of Lucknowi – Avadhi Cuisine. The specialty of this dish is the use of various spices which is used while cooking rice and vegetables.
So, I'm going to share a Vegetable tahiri recipe today with you all. I have used seasonal vegetables like Green peas, carrot, potatoes, beans but you can also add other vegetables like cauliflower, baby corn, mushroom etc. You can simple serve this one pot meal with onion cucumber raita and papad.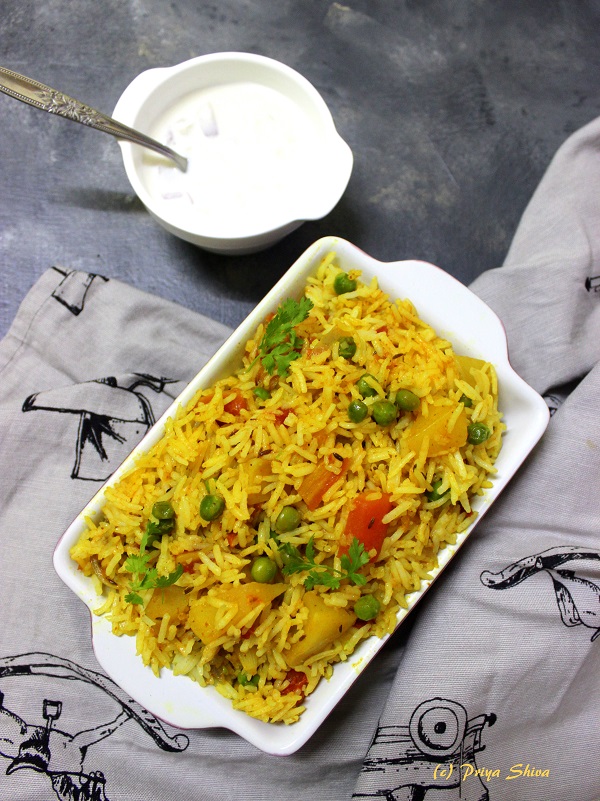 Vegetable Tahiri / Tehri Recipe
Author:
Prep time:
Cook time:
Total time:
Ingredients
Basmati rice – 1+1/2 cup
Potato – 1
Carrot – 1
Peas – 1 cup
French Beans – 6
Tomato – 1 (finely chopped)
Onion – 1 (finely chopped)
Green chilies – 2 (slit)
Ginger garlic paste – 1 tbsp
Curd – 1/2 cup
Mint leaves – 8-10
Turmeric powder – 1/2 tsp
Bay leaf – 2
Black cardamom – 2
Green cardamom – 2
Black peppercorns – 4
Cloves – 2
Cinnamon stick – 1 inch
Salt to taste
Vegetable Oil – 3 tbsp
Instructions
Chop all vegetables and set aside.
Clean and soak basmati rice in water for 30 minutes. Drain water.
Heat a heavy bottomed pan with oil. Add bay leaf, black cardamom, green cardamom, cloves, cinanmon stick, peppercorns and saute for a minute.
Add slit green chilies and ginger garlic paste. saute for few seconds.
Add finely chopped onions and saute well till the onions are translucent.
Add finely chopped tomatoes and saute till tomatoes are mushy.
Now add other vegetables and mix well. Saute well for few minutes.
Add turmeric powder, mint leaves and mix well.
Add whisked curd and mix well. Saute for few minutes.
Add soaked rice and mix gently.
Add 3+1/4 cups of water, salt and mix well.
Close the pan with a lid and let the rice cook on low flame.
Open the pan after 15-20 minutes. Fluff the rice with fork, garnish with coriander leaves.
Notes
You can also use deep fried sliced onions for garnishing.
Yum