I decided to prepare this easy Breakfast Upma today. It is delicious, colorful and healthy too! Weekday mornings are always crazy. I get up around 6 A.M and cooking starts after a cup of ginger tea. I have to prepare the breakfast for the family. I simultaneously prepare lunch as my husbands takes lunch box for office. I have to prepare some snack for my kids snack box too. So, I usually prefer preparing something quick and easy for breakfast.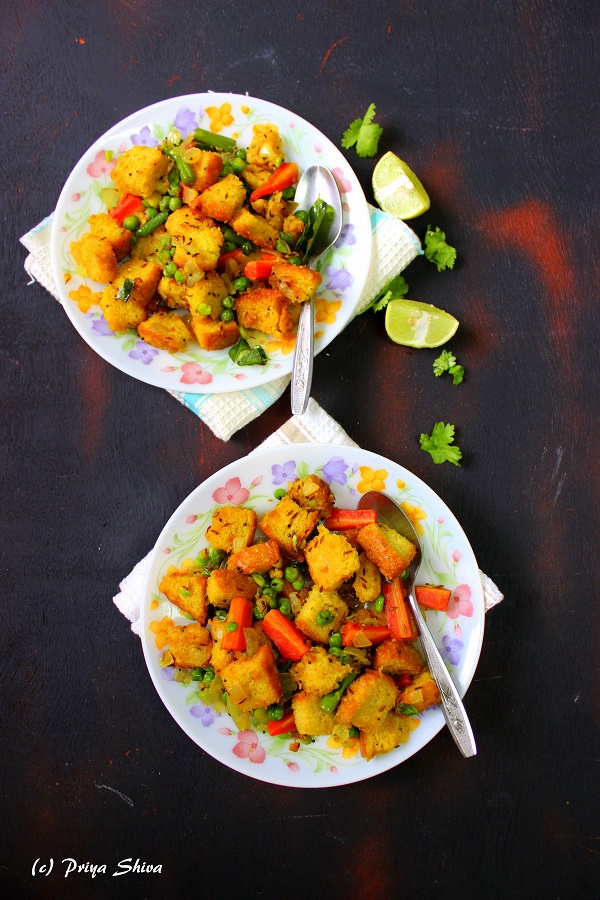 Cooking is not the only thing which I take care in the morning. I have a kid whom I have to make sure is all ready for school and eaten breakfast by 7:30 A.M. Then comes the laundry and cleaning of the house. I go for some grocery or vegetable shopping if something is missing in my pantry. Once I have finished all the household work, I start my blog work, clicking images, planning my next post etc. I usually finish shooting before my kid comes back from school so that I can listen to his stories. Family is my priority.
So, sharing another easy breakfast option today. This Bread Upma Breakfast recipe is so easy to put together that you can make it in flat 20 minutes. I have added carrot, green peas, french beans but you can add other vegetables of your choice too. You can serve this Bread upma with some tomato ketchup.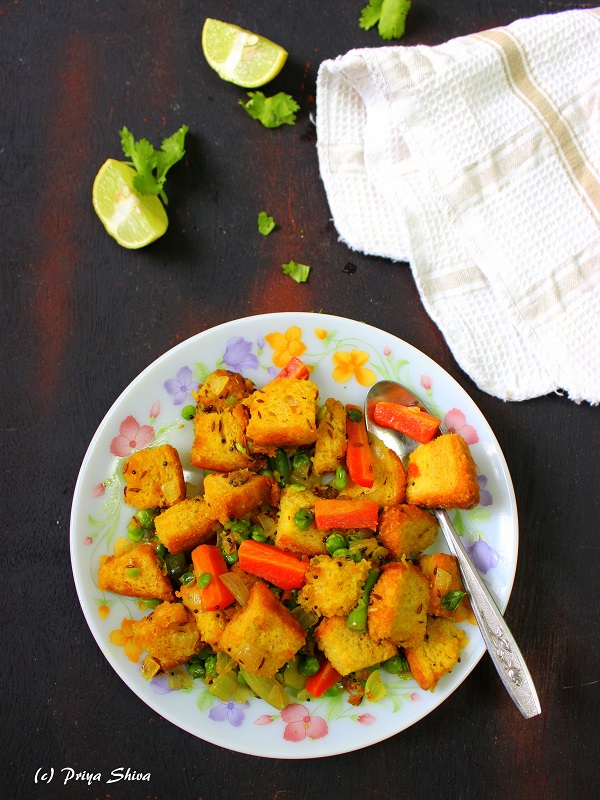 Bread Upma - Breakfast Recipe
Ingredients
Wheat Bread Slices – 4

Green chilies – 2

finely chopped

Onion - 1

finely chopped

Carrot - 1

chopped

French beans - 4

chopped

Green peas - 1/2 cup

Grated ginger - 1 tbsp

Mustard seeds – 1 tsp

Cumin seeds/jeera - 1 tsp

Asafoetida/hing – ⅛ tsp

Curry leaves – 1 sprig

Turmeric powder – ½ tsp

Salt to taste

Lemon – 1

vegetable Oil – 2 tsp
Instructions
Cube bread slices into equal pieces.

Microwave lemon for 15 seconds and then squeeze the juice.

Heat oil in a frying pan and when oil is warm add mustard seeds, cumin seeds and asafoetida.

When mustard seeds splutter, add chopped onions and saute till translucent.

Add chopped ginger, curry leaves and green chillies and saute for few seconds.

Add chopped carrot, french beans, peas and saute for few minutes till vegetables get cooked nicely.

Add turmeric powder, cubed bread pieces, salt taste and mix well. Remove from the flame.

Add lemon juice and mix gently.

Enjoy this upma with some tomato ketchup.
Yum