No Time to cook breakfast? Try this healthy and nutritious Oats Chia seeds Breakfast bowl. Breakfast is the most important meal of the day. A good breakfast acts like a fuel and keeps you active for the day. Recent studies show that kids and teens who eat breakfast have more energy to do better in school and stay active throughout the day.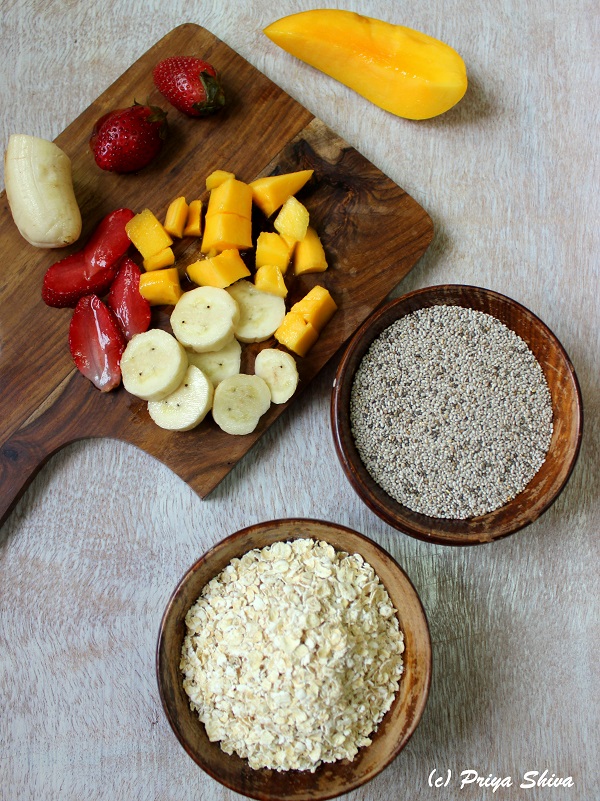 This no cook oats chia seeds breakfast bowl is the best solution for people who are not able to find time to cook a healthy breakfast for the family. I'm a breakfast person and you might find me most irritated if I do not get a breakfast by 9 A.M. I need something good to eat in the morning or my whole day goes for a toss. So, I always make sure that I eat a wholesome breakfast. Some of my favorite breakfast items are – Grilled Bombay sandwich, Mini podi idli, Bread pudding, Ghee roast dosa etc..
There are days when I'm not in a mood to cook an elaborate breakfast and this no cook oats chai seeds breakfast bowl comes handy. I can soak the oats and chia seeds in milk and refrigerate overnight and its ready for use in the morning. Yes, it is that easy! Add your choice of fruits, nuts, sweetener and your wholesome breakfast is all set to be served. So, now you have no reason to skip breakfast and be energized whole day!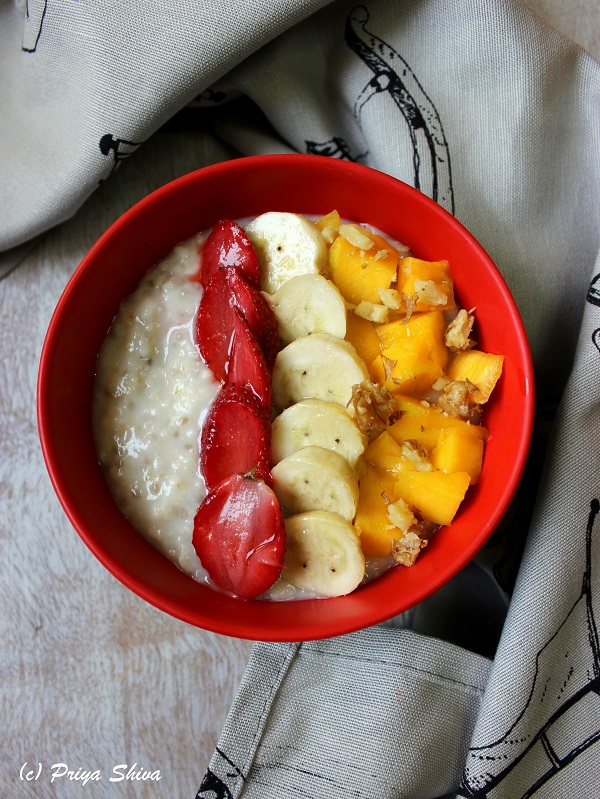 Oats Chia Seeds Breakfast Bowl
Author:
Prep time:
Total time:
Make a wholesome breakfast with oats, chia seeds and fresh fruits!
Ingredients
2 cups milk
3/4 cup rolled oats (I have used quaker oats)
2 tablespoons chia seeds
2 tbsp Sugar or Honey
4 strawberries (diced)
1 large banana (sliced)
1 mango (chopped)
Walnuts – 10 (lightly crushed)
Instructions
Add oats, chia seeds, milk in a bowl and mix well. Divide evenly into two bowls, cover and place in fridge overnight.
Once you are ready to serve, top each bowl with 1 tablespoon of honey or sugar and mix well.
Top it with slices of banana, strawberries, mango, crushed walnuts and serve.
Notes
You can add extra milk or sweetener as per your taste.
Yum