Make a delicious eggless bread pudding topped with custard sauce. This pudding is easy to make and simply delicious! I topped it with custard sauce and some fresh fruits and my whole family enjoyed it.
Breakfast plays a key role in keeping me happy and fresh. I can run my whole day happily if I have had a wholesome breakfast. So, sharing the recipe and its something you can enjoy any time of the day. Have a wonderful day everyone!!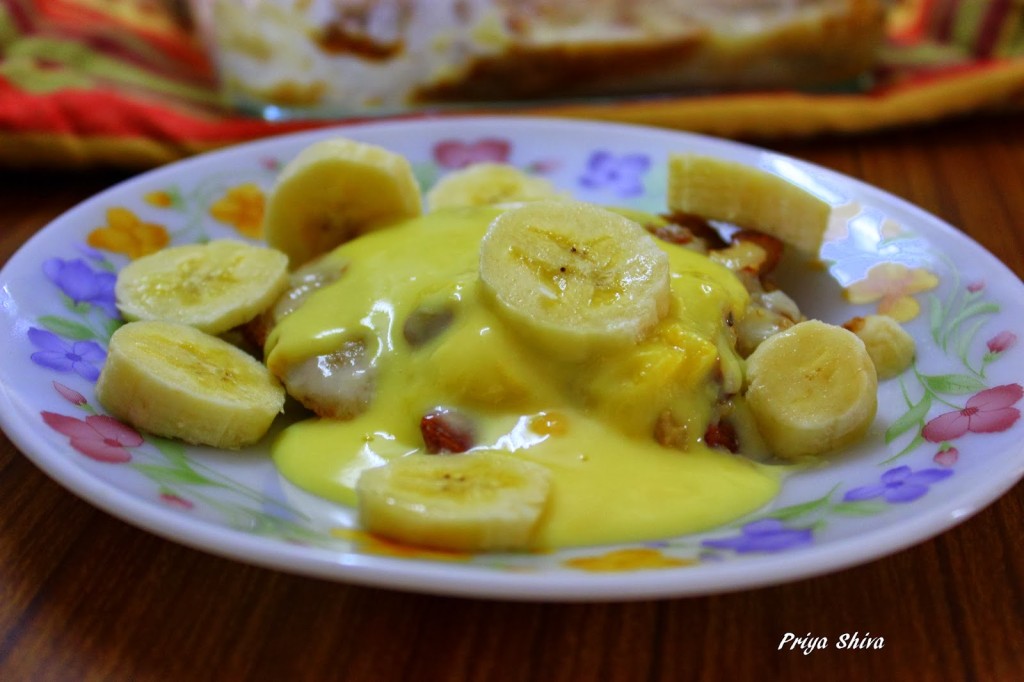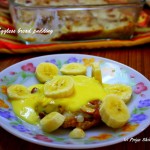 Eggless Bread Pudding
Ingredients
Corn Flour - 1 tbsp

Chopped Cashew Nuts and Almonds - 1 tbsp

Oats - 2 tbsp

Raisins - 1 tbsp

Bread slices - 4

Melted Butter - 2 tbsp

Sugar - 1/3 cup + 4 tbsp

Milk - 2 cups

Vanilla Essence - 1 tsp

Custard Powder - 1 tbsp
Instructions
Preheat Oven at 180 C. Apply butter on one side of each slice and cut each slice into 4 equal parts.

Grease a oven safe bowl with butter and arrange the bread strips with the buttered side facing upwards.

Combine the cornflour and 1/3 cup sugar along with warm milk in a bowl and mix well. Make sure there are no lumps.

Boil the mixture on a low flame and keep stirring continuously. Cook till the sauce slightly thickens.

Remove from the flame and add add 1/2 tsp vanilla essence and mix it well.

Sprinkle nuts, oats and raisins on the bread strips and pour the sauce evenly over them.

Sprinkle the 1 tbsp sugar evenly on top and 1 tbsp melted butter evenly over it.

Bake for 30 minutes at same temperature. Remove from oven.

To prepare custard sauce - add milk, custard powder, 3 tbsp sugar in pan and cook it on low flame for 4-5 minutes or until the sauce thickens. Keep stirring. Remove from the flame and add 1/2 vanilla essence and mix it well.

Now top this sauce over the pudding and serve it with some fresh fruits.
Yum