Pottukadalai Mittai or Pottukadalai Urundai is a nutritious snack made with roasted gram and jaggery. I just love these cute little balls and who can resist a crunchy snack which is packed with nutrition too! Pottukadalai means roasted gram and mittai means sweet. So, this snack has a sweetness from jaggery. Did you know jaggery is rich in iron? It is the closest substitute for white sugar and much healthier. You just need few basic ingredients to make this snack and you all set to make it at home in no time..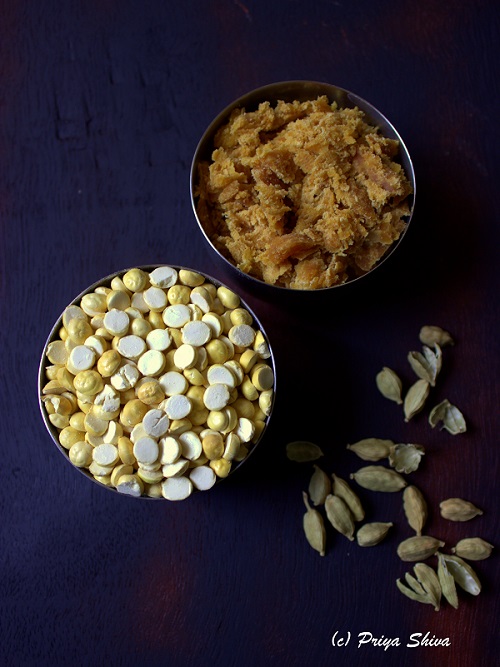 I have such fond memories attached with Pottukadalai mittai. My mom used to make them for snacking. The whole family would often sit in the living room with a cup of Chai or filter coffee, these crunchy snacks in the evening and talk for hours. As a family (me, sis, mom, dad), we were always able to gather and sit together for every meal. Dad won't be there for lunch but he will always join us for breakfast and dinner. As a rule, we have to sit around the dining table and eat together. The table manners were followed, no one would dare switch on the TV or attend any other work during meal time. It worked as it kept the family together. We were able to have true conversations. Where are those golden days? 
So, sharing a recipe for Pottukadali mittai and leaving you with a thought today that you can spend quality time with your family over a meal. You can also try these protein rich Payatham Paruppu ladoo from my blog.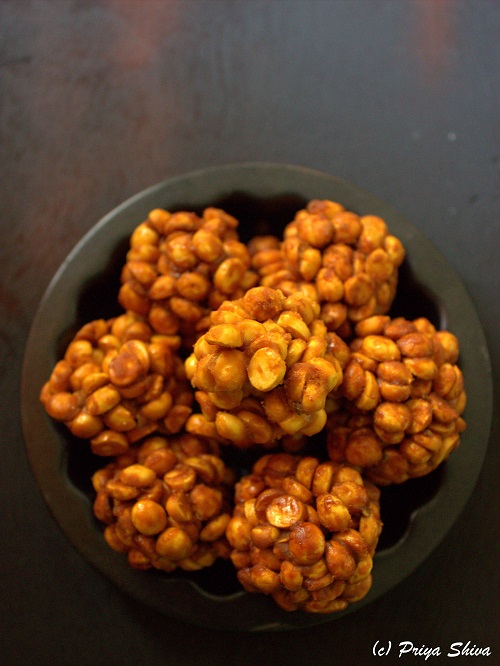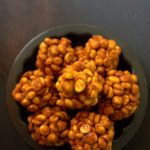 Pottukadalai Urundai Recipe
Make a healthy snack with roasted gram and jaggery!
Ingredients
Roasted gram / Pottukadalai – 1 cup

Jaggery – 1/2 cup (powdered)

Water – 1/4 cup

Cardamom powder – 2 (powdered)

Ghee/oil - 1 tsp
Instructions
Heat the pan and add water and jaggery and mix it well. Once the jaggery has dissolved, switch off the gas stove and strain it to remove impurities.

Heat the pan again with the jaggery syrup, add cardamom powder and boil it again for 2 minutes till the syrup starts thickening.

Keep a small bowl with little water handy. Lower the flame and add few drops of jaggery syrup in the bowl to check consistency. It should not get dissolved in water immediately and you should be able to form a ball with it. If you've not reached this consistency, boil it for few more minutes and check again.

Once you've reached that consistency, switch off the gas stove and add the roasted gram and gently mix well with jaggery syrup till you don't find any syrup at the bottom of the vessel.

Grease your hands with some ghee and start making balls. Do not wait for it to completely cool down completely or it would be difficult to make balls of it.
Yum