I'm going to share a healthy recipe to make Payatham paruppu ladoos today. Payatham paruppu means mung beans or green gram. It is a grandma recipe which never fails to put a smile on my face. These sweet treats are absolutely healthy, rich in protein and delicious too.
Check out the video to make these green gram ladoo: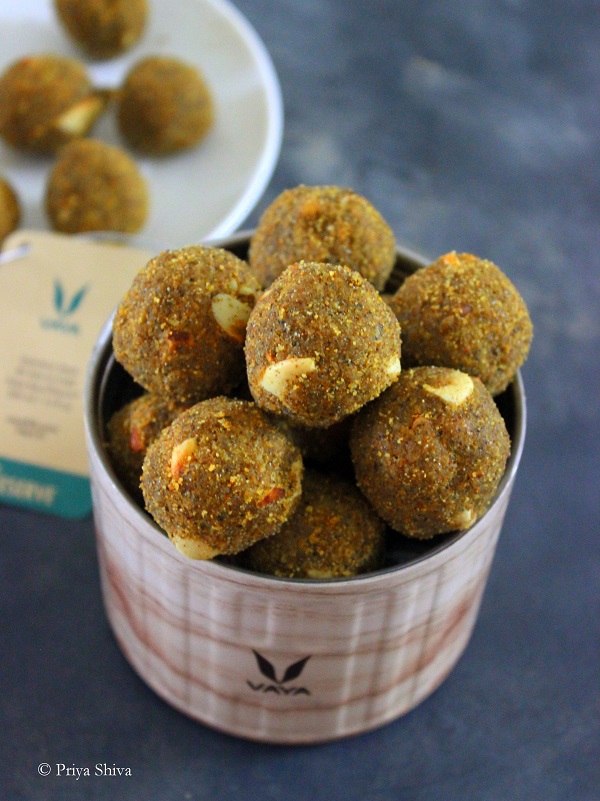 Everyone loves food made by grandma as they are filled with so much love and affection. As a child, I always waited for my summer holidays so that I can spend time with my grandparents and enjoy those goodies. The happiness is opening up that box filled with goodies and the smell itself is captivating. I have used a Vaya food storage container and simply love it! I can store freshly cooked curry or rice too in it and it stays warm for 4-6 hours. I can use it as an ice-cream box too!
So, check out the detailed recipe to make these Payatham paruppu ladoos. You can also try these Urad dal ladoos from my blog.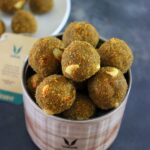 Payatham paruppu ladoo
Ingredients
1

cup

Payatham paruppu/ Mung beans/Green gram

1

cup

Jaggery

powdered

1/4

cup + 1 tsp

Ghee

10

badam/almonds

broken

10

Cashew nuts

broken

2

cardamom

powdered
Instructions
Roast green gram in a frying pan on low flame for 5-7 minutes. Keep stirring till the lentils turn brown color and it will start leaving a nice aroma. Transfer to a plate and let it cool down.

Add roasted urad dal in your food processor and grind it to a coarse powder.

Heat 1 tsp ghee in the frying pan. Roast cashews and almonds nicely.

Now add remaining ghee and let it melt. Remove the pan from flame.

Powder jaggery and add it the pan. Add the powdered green gram in thepan too.

Powder cardamom and add it too.

Mix well with a ladle. When it's warm itself start making small balls of the mix and keep it aside.

Once it completely cools down, store it in an air-tight container. You can store it upto 2-3 weeks in a cool place.
Recipe Notes
Do not worry if the mix completely cools down and you are not able to make balls. Heat the pan again with the mix and stir for 2 minutes on low flame. Remove from the flame and start making balls again.
Yum