The market is flooded with strawberries and all I can think of is desserts with them! I decided to keep the desserts in my mind for now and make some nutritious breakfast loaded with goodness of raw strawberries. Overnight Chia Seed Pudding is such a helpful dish especially on a crazy Monday. It is only beginning of the week and I'm already thinking of the coming weekend. Well, that's my lazy side talking to you today :)..
I always love the idea of having breakfast in jar. I can soak the chia seeds in milk and refrigerate it and top it with some fresh fruits and nuts. This is what I would call a no fuss, no cook breakfast! I can simply open the jar in the morning and start eating.
Breakfast plays an important role in my day. I always have hectic week days and weekends are even more crazy. So, breakfast helps to keep me going whole day with a smile! You can also make Oats Chia Seeds Breakfast Bowl which is another variation for a quick breakfast. So, sharing yet another easy breakfast recipe today which is Overnight Chia Seed Pudding. I wish you all have a great week ahead…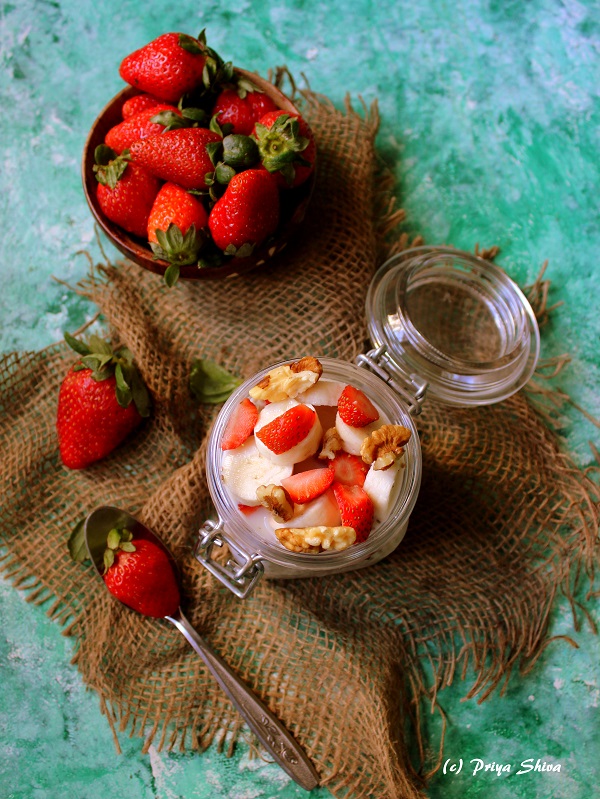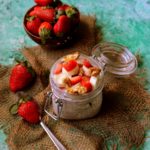 Overnight Chia Seed Pudding
Ingredients
2 cups milk

6 tablespoons chia seeds

2 tsp sugar or honey

12 strawberries (diced)

2 large banana (sliced)

Walnuts - 10 (broken)

Cinnamon powder - 1/2 tsp
Instructions
Add chia seeds, milk in a bowl and mix well. Divide evenly into two jars, cover and place it in fridge overnight.

Once you are ready to serve, top each bowl with 1 teaspoon of sugar, 1/4 tsp cinnamon powder and mix well.

Top it with slices of banana, strawberries, crushed walnuts and serve.
Recipe Notes
You can add extra milk or sweetener as per your taste.
Yum