Cucumber Lemon Mint Ginger Detox Drink is a healthy way to start your day. We keep hearing how 8-10 glasses of water are the key to remain healthy. Water keeps our body hydrated and helps in flushing out toxins from our body. Here's another cool way to prepare your daily intake of water which has more benefits. I learnt this recently from my hubby who started this daily routine of preparing a jug of water with mint, ginger, cucumber and lemon. Cucumber is 95% water, ginger helps in digestion, lemon is a great source of Vitamin C, mint is a freshener and great source of antioxidants. So, combining all of them is only going to be beneficial for you. The best part is that all ingredients are easily available.
Check out this quick video to make Detox drinks in 3 ways:
So, are you drinking 8-10 glasses of water daily? I tend to forget with my daily chores and running around the kid. This has been a great way to keep me hydrated and I can easily carry it anywhere I go. I usually prepare this drink in the night and leave it over-night in a glass jar. This ensures that water gets infused with the ingredients. Next morning, I strain it and start drinking. You can see the benefits only in a long run. So, do try out this Cucumber Lemon Mint Ginger Detox Drink and enjoy its benefits.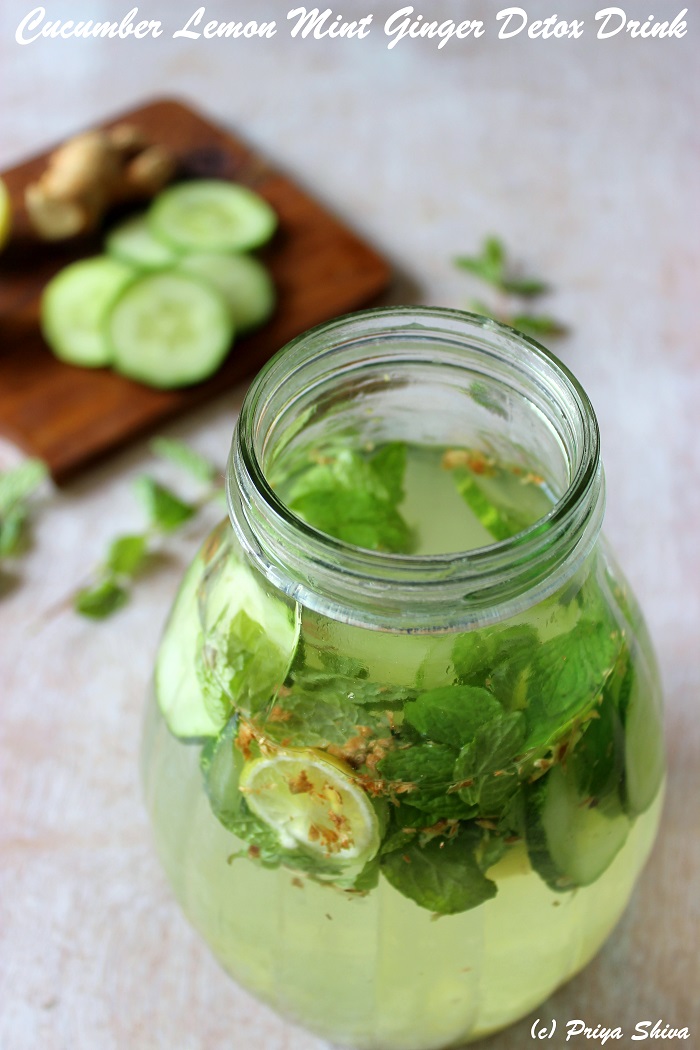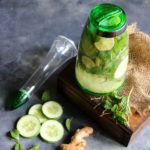 Cucumber Lemon Mint Ginger Detox Drink
A healthy, detox drink with cucumber, lemon, ginger and mint.
Ingredients
Cucumber - 1

thinly sliced

Lemon - 2

thinly sliced

Ginger - 2 tbsp

grated

Mint leaves - 1/2 cup

Water - 8 glasses
Instructions
Add all ingredients in a glass jar and mix well.

Close the jar and leave it overnight or for minimum 4 hours. Refrigerate it.

Strain the infused water and enjoy.
Yum