Papaya Pomegranate Salsa is colorful and something which you can fix in 10 minutes. You can enjoy this bowlful of salsa with some tortilla chips or top it on a taco of your choice. I usually end up eating it like a salad 🙂 .. Eating fresh fruits have their own benefits. Instead of munching on fatty snacks, you can make this refreshing bowl of salsa and enjoy. I'm a big fan of fruit salads and shared few recipes before on my blog. Just click on the names for the recipe:
Mango Apple salad with Pomegranate dressing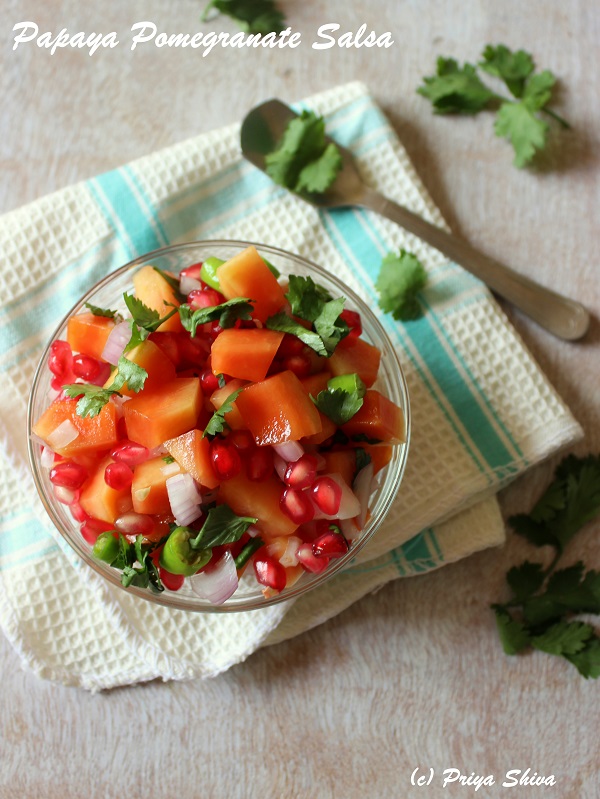 The jalapenos add some heat to the salsa which I enjoy but you can totally avoid it. Cilantro or coriander leaves adds a nice color and freshness to the salsa. The raw onions are extremely good for your health too. So, next time you think of preparing a fruit salad, you can think of making this Papaya Pomegranate Salsa too. You can even make this salsa and freeze it. Enjoy a bowl of salsa when you get a hunger pang around evening or any time of the day. So, sharing the recipe and hope you all enjoy it.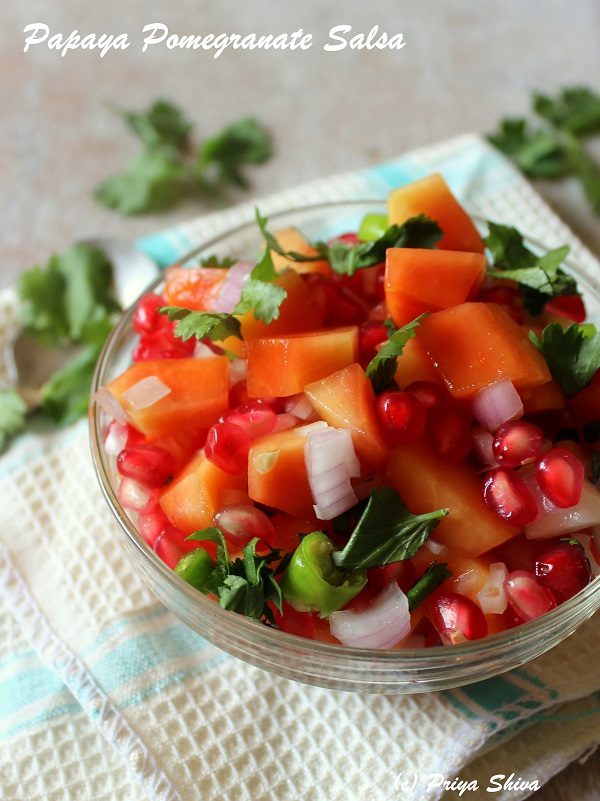 Papaya Pomegranate Salsa
Author:
Prep time:
Cook time:
Total time:
Enjoy a bowl full of colorful salsa with goodness of papaya and pomegranate!
Ingredients
Papaya – 2 cups (finely chopped)
Pomegranate seeds – 1 cup
Red Onion – 1 (finely chopped)
Jalapeno – 1 (finely chopped)
Cilantro – 2 tbsp (chopped)
Salt to taste
Black pepper powder – 1/2 tsp
Lemon juice – 2 tsp
Instructions
Combine chopped papaya, onion, pomegranate seeds, jalapeno, cilantro in a bowl.
Drizzle lemon juice and mix.
Season with salt and pepper.
Let it rest for 10-15 minutes before serving.
Yum