Honey and ginger fruit salad bowl is super easy to make and so healthy. You can put it together in flat 10 minutes. I have been lately concentrating more and more on eating healthy food and restricting myself from getting tempted to high calorie food. Maybe it's the sudden realization that I need to eat well to stay healthy. I'm not a kind of person who can stay away from sweets and desserts. So, I try to have a balanced diet and exercise regularly. I love fruits and just can't stay away from them. People who eat more fresh fruits and vegetables are likely to have a good healthy life. You will love the combination of honey, lemon and ginger. The aroma of fresh fruits, mint and lemon is simply irresistible. So, here's a quick fruit salad recipe. You all need to try it out to believe me that it's so so good!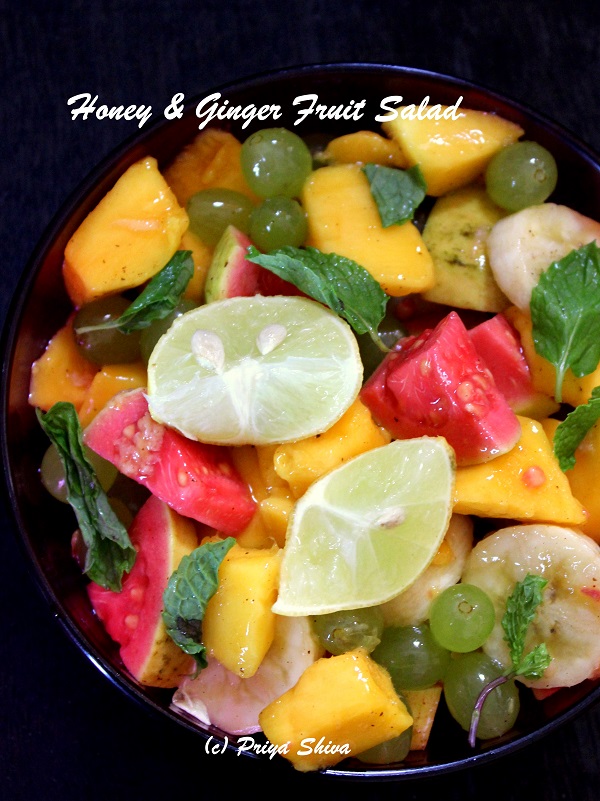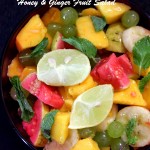 Honey and Ginger Fruit Salad
A delicious fruit salad made with mix of fruits and a lovely dressing of honey and ginger!
Ingredients
Guava – 1

I have used pink guava

Mango – 1

Banana - 1

Green grapes - 1/2 cup

Honey – 2 tbsp

Grated ginger - 1 tbsp

Lemon Juice – 2 tsp

Back pepper powder – 1/2 tsp

Salt as per taste

Mint leaves – for garnishing
Instructions
Clean and chop all fruits and add them in a bowl.

Take another small bowl and add honey, lemon juice, pepper powder, salt, ginger and mix it well.

Now drizzle this honey mix over the fruits and mix.

Transfer content in a serving bowl and garnish some mint leaves.
Yum