Mango Apple Salad with Pomegranate Dressing comes in my mind if I think of an easy and refreshing salad today. Eating healthy food is very important for healthy living. This always doesn't mean eating everything raw without any flavours. You can even give a quick salad bowl an interesting twist with delightful dressings. What I'm going to share is one of my favourite dressing made with fresh pomegranate juice. You can easily store this dressing in your refrigerator for a week.
Did you know that pomegranate has many health benefits. They help in boosting your immunity levels. Eating pomegranate keeps your skin glowing and radiant as they have powerful antioxidants. You will love this colourful looking mango salad bowl with the refreshing pomegranate dressing!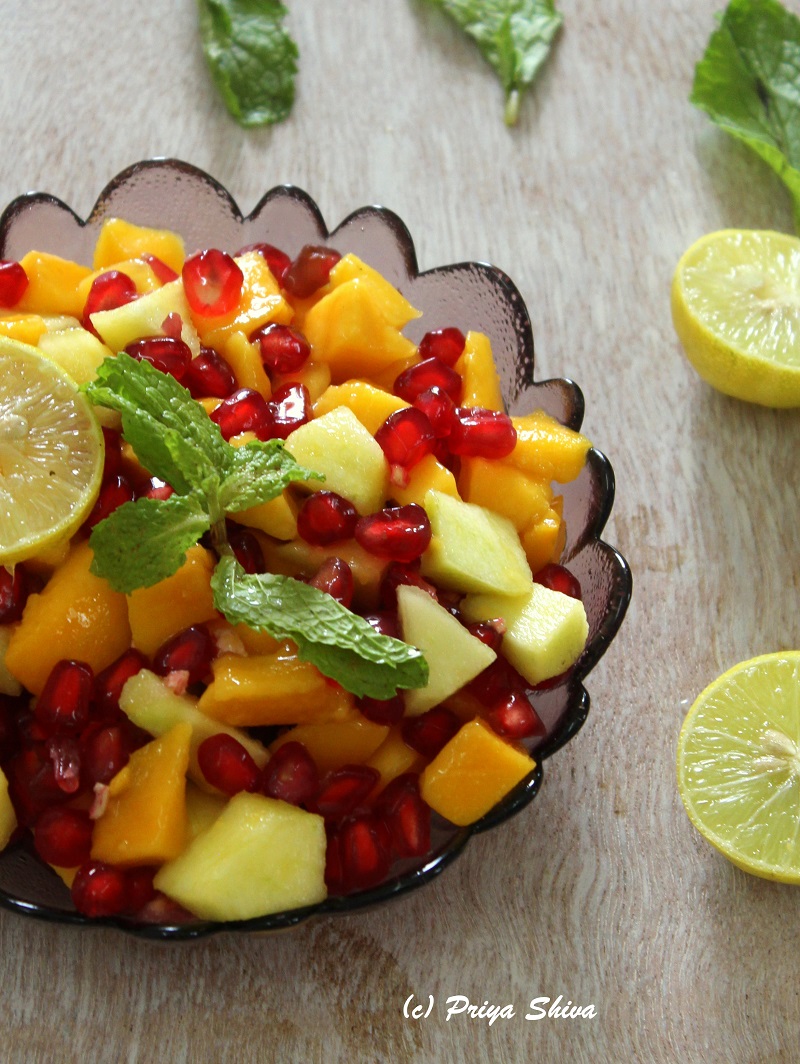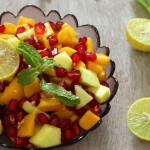 Mango Apple Salad with Pomegranate Dressing
Ingredients
1

Pomegranate

4

tbsp

Herb infused olive oil

2

tbsp

White Apple cider vinegar

1/2

tsp

sugar

2

Mango

peeled and chopped

2

Apple

peeled and chopped

1

tbsp

Lemon Juice

1

tsp

Black pepper powder

Salt as per taste

10

Mint leaves for garnishing
Instructions
Peel pomegranate and keep the seeds ready for use in a bowl.

Take half portion of seeds and juice it in a a blender. Strain it.

Now add this juice in a mixing bowl along with olive oil, vinegar, sugar and mix it well. Add the remaining pomegranate seeds and mix it well. Dressing is ready.

Add chopped mango, apple, salt, lemon juice, black pepper, Pomegranate dressing in a mixing bowl and mix it well.

Set it aside for 5-10 minutes. Mix again, garnish with mint leaves and serve.
Recipe Notes
How to make herb infused oil - Warm olive oil in a small sauce pan and add mint leaves. When mint leaves become translucent, remove from flame and let it cool down. Remove the mint leaves.
Yum