As you guys know, I'm currently on a 7-day detox diet that is going extremely well. I've lost weight already and I can feel myself gaining more energy with each day! On this detoxing journey, I've been thinking about the different ways I can detox more often and the fruit that stood out to me the most was the watermelon.
Watermelon is one of the best fruits to keep you hydrated and help you flush out the toxins. That's why I'm using it to make a Watermelon green tea detox drink. Watermelon is a wonder fruit. It can naturally keep you hydrated as it is mostly water. Its getting warmer day-by-day and I would definitely suggest you all to stock up more on watermelons.
I started this regime of having detox water everyday about 2 weeks back. One of the main reasons I started consuming detox water everyday is to make sure that I drink 8-10 glasses of water everyday. The water in the body only helps out to flush out toxins and feel fresh. I have already shared two other recipes for detox drinks:-
Today I'm sharing a way to detox yourself with green tea and watermelons. So, stay tuned to my blog as this is only the third week and we have a long way to go..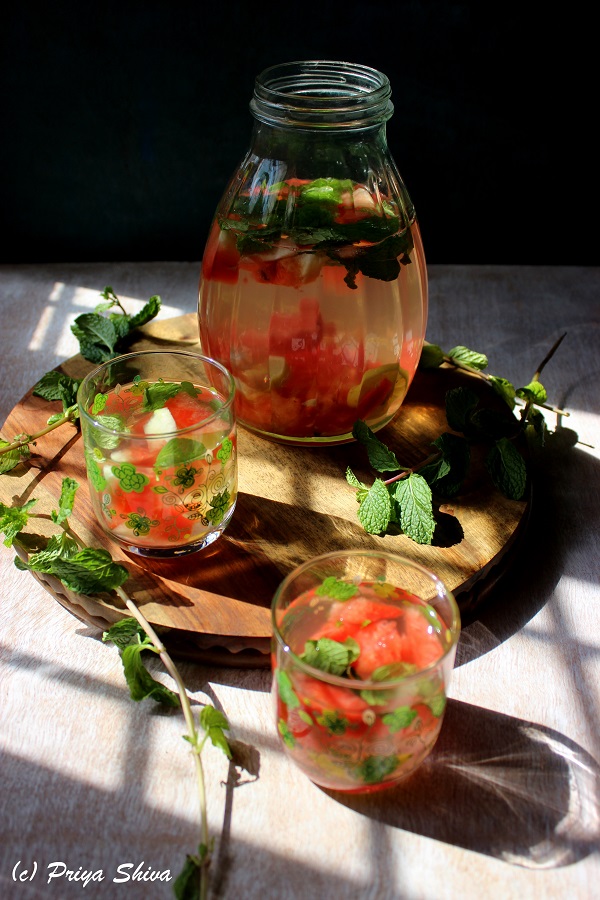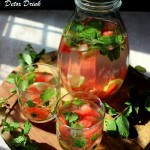 Watermelon green tea Detox
Ingredients
Watermelon - 1 cup (cubed)

Green Tea - 2 tsp

Lemon - 1 (thinly sliced)

Mint leaves - ½ cup

Water - 8 glasses
Instructions
Brew green tea in 1 glass of water. Let it cool down and strain it.

Add remaining glasses of water, brewed green tea, watermelon cubes, mint leaves, lemon slices in a glass jar and mix well.

Close the jar and refrigerate for minimum one hour. Strain the infused water and enjoy. 
Yum