Clementine Cinnamon Cilantro Detox Drink is my way of washing out toxins this week. I'm a hardcore foodie and I can't always stay away from sweets or snacks. So, how do I make sure that I flush out the toxins and stay fit? It's not so easy for a person like me who lures on all temptations 🙂 .. There are two things which I have started following:-
Daily exercise and walk for 30 minutes.

Detox drinks
I'm not a health freak but I do believe in healthy living. Last week I drank Cucumber lemon Mint detox drink every day. This week, it is going to be Clementine Cinnamon Cilantro Detox Drink. Clementines are great source of Vitamin C which helps to build immunity in your body. Cinnamon is one of the most popular spice but do you know that spices are healthy too? Cinnamon works like an anti-oxidant and helps to burn fat and to treat ed. Cilantro or coriander is the most popular herb but did you know that it works like a natural cleanser? It is found in abundance and extremely beneficial. It is one of the reasons that I use it almost everyday for curry, chutney etc.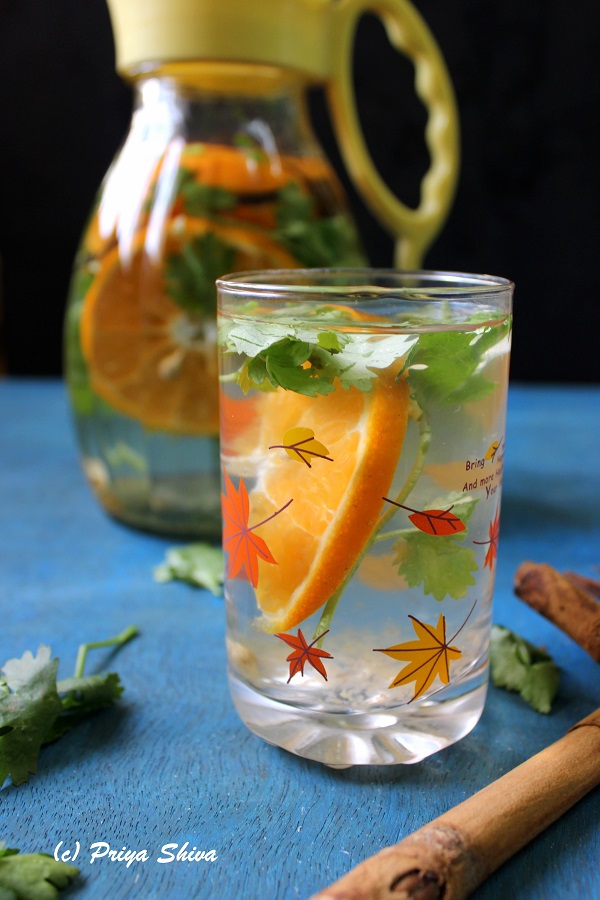 One of the main reasons why I prepare these detox drinks is to keep myself hydrated. I'm developing a habit to drink at least 8-10 glasses of water daily. It is becoming warmer day-by-day and these infused water definitely help to stay hydrated and fresh.
You can't find results by following it for few days. The key to success is to follow it every day and go a long way with it. So, sharing the way to make Clementine Cinnamon Cilantro Detox Drink. Its refreshing, healthy and keeps you hydrated!
Clementine Cinnamon Cilantro Detox Drink
 A refreshing way to keep you healthy and hydrated!
Ingredients
Clementine - 1 (thinly sliced)

Cinnamon - 1/2 stick (break it into few pieces)

Cilantro/Coriander leaves - ½ cup

Water - 8 glasses
Instructions
Add all ingredients in a glass jar and mix well. Close the jar and refrigerate it overnight or for minimum 2 hours. Strain the infused water and enjoy.
Yum