Goli Baje or Mangalore Bajji is a popular snack from state of Karnataka, India. It is mainly made with all purpose flour (maida), curd and one of the reasons that it is also known as maida bonda. Rice flour and gram flour is added to make it more crispy. The spices and herbs add flavors to this crispy snack.
It has been few months since I moved to Bangalore, Karnataka and time for me to explore some food here. I had earlier posted Avarekalu food festival and tried some masala vada with it. Today, I decided to try these Mangalore Bondas. As they say, Be a Roman in Rome. I got this recipe from a street shop in Bangalore. It is fun to try out new things and enjoy isn't it? So, do try out these crispy snack and enjoy it with a cup of ginger tea like me!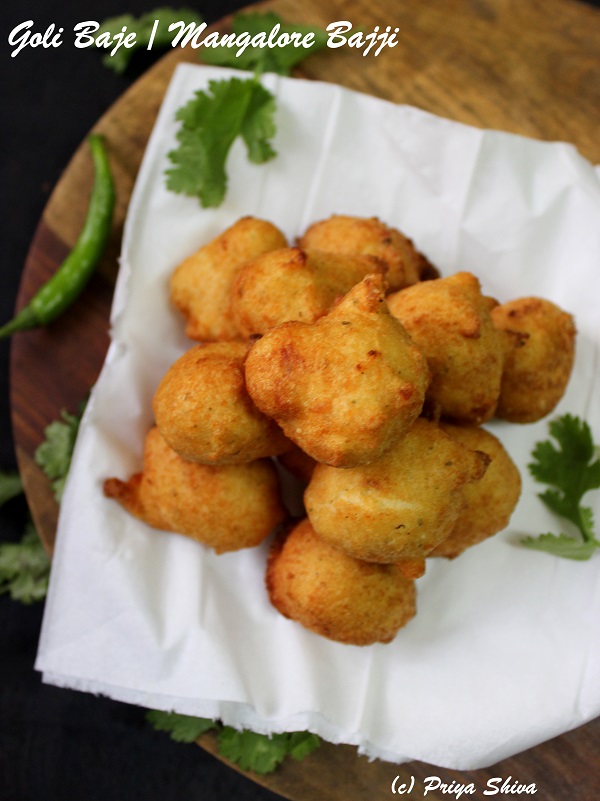 Goli Baje / Mangalore Bajji
Author:
Prep time:
Cook time:
Total time:
Make crispy snack known as Goli Baje or Mangalore Bajji with some coconut chutney and enjoy!
Ingredients
All purpose flour / Maida – 1.5 cup
Curd/ dahi – 1.5 cup
Rice flour – 2 tbsp
Gram Flour – 2 tbsp
Grated Ginger – 1 tbsp
Green chilies – 2 (finely chopped)
Black Pepper Corns – 3 (crushed)
Asafoetida – 1/8 tsp
Curry leaves – 1 sprig (finely chopped)
Coriander leaves – 2 tbsp (finely chopped)
Sugar – 1 tsp
Salt to taste
Baking Soda – 1/4 tsp
Vegetable Oil for deep frying – 1 cup
Instructions
Add all purpose flour, gram flour, rice flour, asafoetida, sugar, crushed pepper, grated ginger, chopped curry leaves, chopped coriander leaves, chopped green chilies in a mixing bowl.
Add curd and mix well to form a smooth, thick batter.
Rest the batter for 45 minutes.
Now add baking soda and mix thoroughly.
Heat oil in a frying pan. Drop a small piece of the batter to check if the oil is ready. The oil is ready if the batter immediately floats to the top. Lower the flame.
Take a tablespoon of batter in your hand and drop it carefully into the hot oil.
Deep fry until the balls turn golden color. Keep turning the balls so that they fry evenly. Remove and drain on paper towels.
erve it hot with some coconut chutney.
Notes
You can add more curd if you feel the batter is too thick but remember not to make it runny.[br]Fry them only on low flame once the oil is hot or they will be uncooked from inside.
Yum