After posting how to make Sambar powder at home, I had to post a detailed Sambar recipe using it. I got these drumsticks fresh from my in-laws garden and its always good to cook with some organic vegetables. So, I decided t make drumstick sambar today which I served for breakfast with idli.
Check out this video to make Drumstick sambar in quick and easy way:
As you all must know that drumsticks are extremely good for health and they taste delicious too! We call drumsticks as Murungakkai in South India. Murungakkai Sambar is easy to prepare and  you can even enjoy it for lunch drizzled over some steamed rice. Sambar is a great side dish for Dosas, Idlis etc. Click here to check out the recipe to make super soft idlis.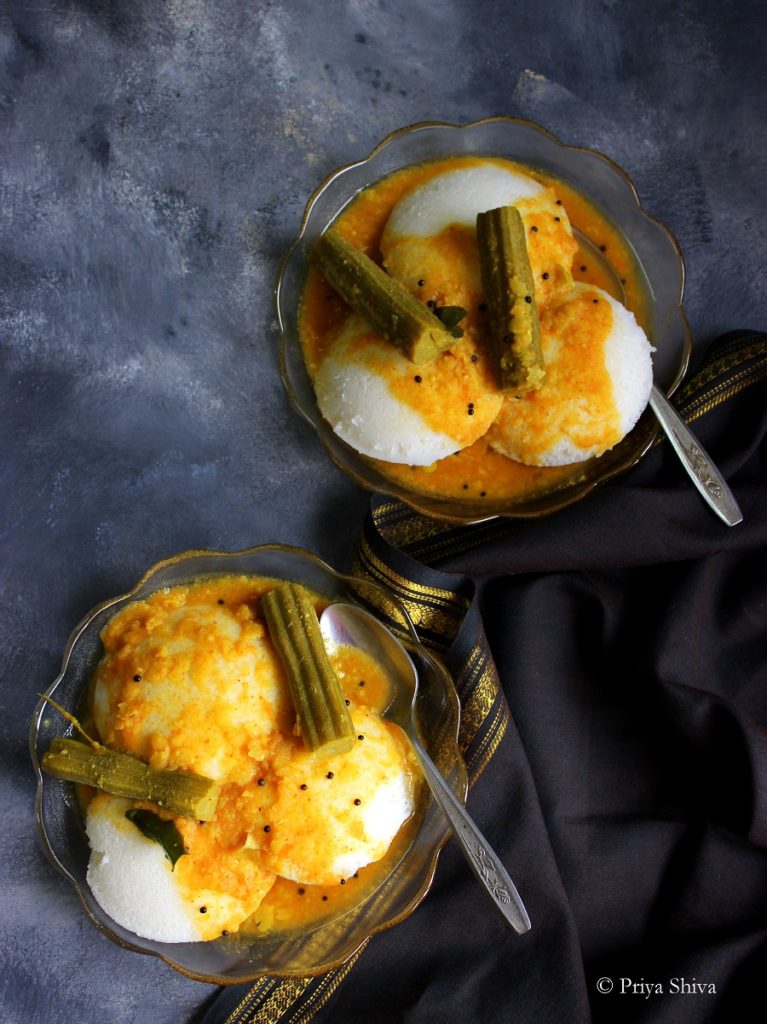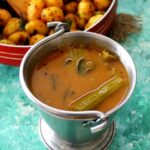 Drumstick Sambar
Ingredients
Toovar Dal/yellow lentil - 1/2 cup

2 Drumstick (chopped 3 inch pieces)

Sambar powder - 2 tsp

Tamarind - 2 tbsp

Jaggery (powdered) - 1 tsp

Turmeric powder - 1/4 tsp

Curry leaves - 1 sprig

Asafoetida - 1/4 tsp

Mustard Seeds - 1 tsp

Red Chillies - 2

Idhayam Sesame Oil - 2 tbsp

Salt to taste
Instructions
Soak tamarind in 1/2 cup hot water for 15 minutes. Now drain the water in a separate bowl by removing the pulp.

Pressure cook lentil with 1 cup water and a pinch of turmeric powder till its soft and cooked properly. Mash the lentil and keep it aside.

Add 1 tbsp oil in a sauce pan and when its warm, add drumsticks and saute for a minute.

Lower the flame and add tamarind water, turmeric powder, sambar powder, jaggery and let it simmer for few more minutes.

Add mashed lentil, salt to taste and mix it well. If you feel its took thick, you can add some more water and adjust the consistency.

Add 1 tbsp oil in a small frying pan and when its warm add mustard seeds. When mustard seeds splutter, add red chillies

Add a pinch of asafoetida, curry leaves and stir for few second. Add this tempering in the Sambar and serve it hot with some rice or Idli/Dosa.
Yum