BisiBela Bhaat is a traditional dish from Karnataka, India cooked with rice and lentils. "Bisi Bele Bhaat" means "hot lentil rice" in kannada. It is spicy, addictive and usually served hot with loads of ghee.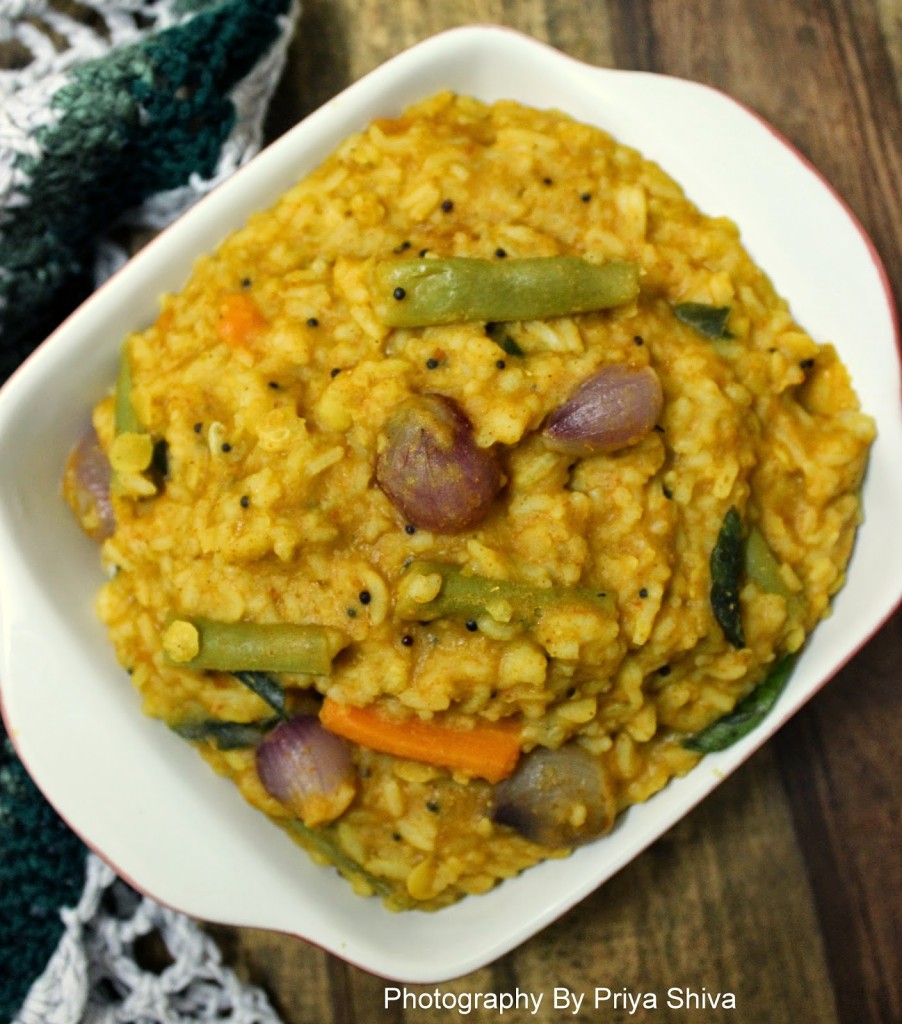 I love this dish which is part of Karnataka cuisine. It is one of my favorite dish and I often enjoy it in MTR hotel. The weather is awesome in Bangalore, great place for foodies and what more you can ask for as a food blogger 🙂 .. That's how I got addicted to this delicious one pot meal. It is usually spicy but you can adjust the spices as per your taste.  You'll love Bisibela Bhaat with some raita and fried papad or some banana chips.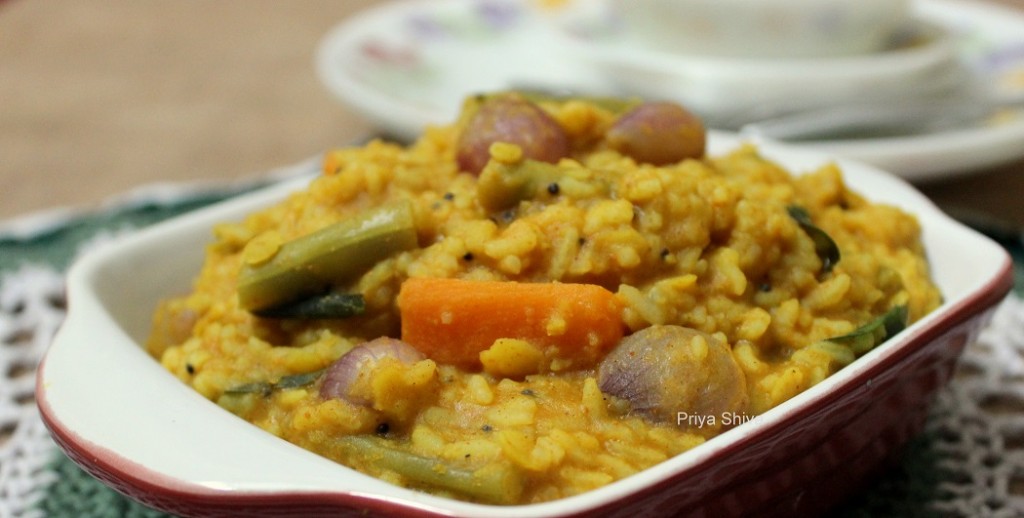 Bisi Bele Bhaat
Author:
Prep time:
Cook time:
Total time:
Ingredients
Raw Rice – 1 cup
Toovar dal/yellow lentil – 1/3 cup
Carrot – 1 (chopped)
French Beans – 4 (chopped)
Potato – 1 (chopped)
Peeled Madras onions – 1 cup
Grated coconut – 1 cup
Bengal Gram/chana dal – 2 tbsp
Coriander seeds – 2 tbsp
Urad Dal/white lentil – 1 tsp
Cumin seeds – 1 tsp
Cinnamon – 1/2 inch
Red chili – 4
Mustard seeds – 1 tsp
Turmeric Powder – 1/4 tsp
Tamarind – 2 tbsp
Vegetable Oil – 2 tbsp
Curry leaves – 1 sprig
Asafoetida/hing – 1/8 tsp
Salt to taste
Instructions
Soak tamarind in 1 cup of warm water for 30 minutes. Remove pulp and drain tamarind water in a bowl
Heat a frying pan with 1 tsp oil and roast chana dal, urad dal, cumin seeds, coriander seeds, red chilies; cinnamon, for few minutes till urad dal turns golden brown. Add grated coconut and saute till coconut turns light brown.
When it cools down, add to your blender and blitz it to make a coarse paste.
Soak the tamarind in 1 cup of warm water and keep aside for 30 minutes. Strain to remove seeds and pulp and keep it aside.
Soak rice and lentil in some water for 30 minutes. Drain the water and keep it ready.
Pressure cook soaked rice and lentil with 2+1/2 cups of water.
Add oil in a frying pan and when oil is warm add mustard seeds, a pinch of asafetida.
When mustard seeds crackle add small onions and sauté till it turns golden brown. Add curry leaves and saute for few seconds.
Now add chopped vegetables, tamarind water, turmeric powder. Let it boil for few minutes in low flame.
Now add coconut spice paste and mix well.
Add cooked rice and lentil and mix well. Add salt to taste.
Transfer in a serving bowl, drizzle some ghee and serve.
Yum