I love street food! I think India excels as a country on street food. You talk about any city or state in India and you will find people talking about the local street food. The love for street food made me make this easy Chakli chaat today.
I can talk about enjoying a bowl of Churmuri which is a street food of Karnataka. I can equally talk about enjoying verkadalai sundal from the beaches of Chennai. I have lived in North most of my life and continue talking about my love for pani puri, bhalla papdi and ram ladoos. My love for street food is never ending! So, here's another quick recipe for Chakli chaat which is made with chakli which is topped with hari chutney, onions, tomatoes and some sev. It is so easy to put together that you will simply love it!
Click here to check out chakli recipe.
Click here for hari chutney recipe.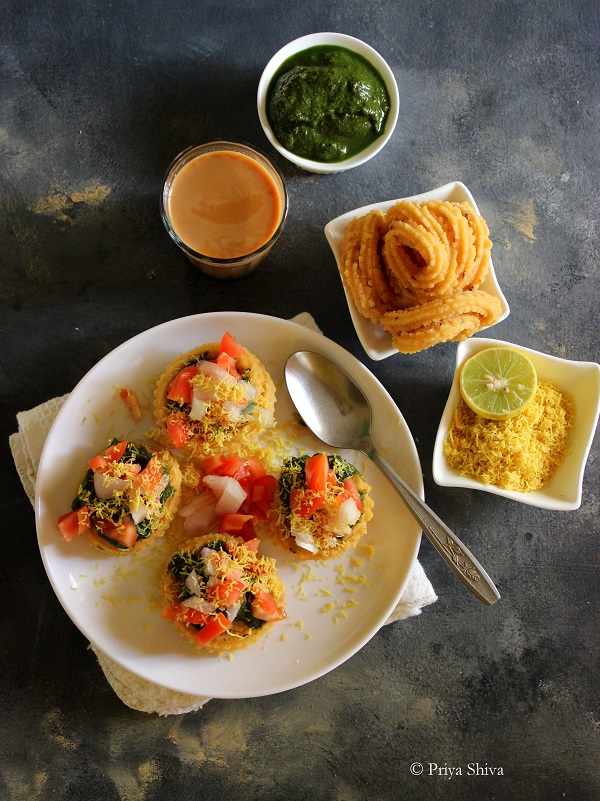 Easy Chakli Chaat Recipe
Ingredients
Chakli - 8
Hari chutney - 8 tsp
Onion - 2 (chopped)
Tomato - 2 (chopped)
Lemon - 1
salt to taste
Chaat masala - 1 tsp
Fine Sev - ½ cup
Instructions
Spread 1 tsp of hari chutney on each chakli.
Top it with chopped onion and tomatoes.
Sprinkle little salt and chaat masala.
Squeeze a little lemon juice over each chakli and top it with some sev.
Enjoy for snacking!
Yum