What inspires you? I always get inspired by someone's hard work and their journey towards success which includes failures too. There is so much to learn, get inspired and then the journey starts to inspire others. I'm at that threshold today especially after launching my first workshop. To be inspired is a great feeling but when you are inspiring others, the feeling is even more incredible. It comes with a responsibility when you are a mentor. My consciousness expands in every direction. I just took a short break today and made this Churmuri – Karnataka Street food Recipe to enjoy with my evening tea.
Have you checked out the details of my workshop? Click here to read all about it. As you go through the details, prepare this quick snack made with puffed rice. This is one of the most popular street food of Karnataka especially in Mysore, Udipi, Mangalore and even in Bangalore. You just need few basic ingredients to put it together and 10 minutes of your time. So, make some Churmuri and enjoy snacking!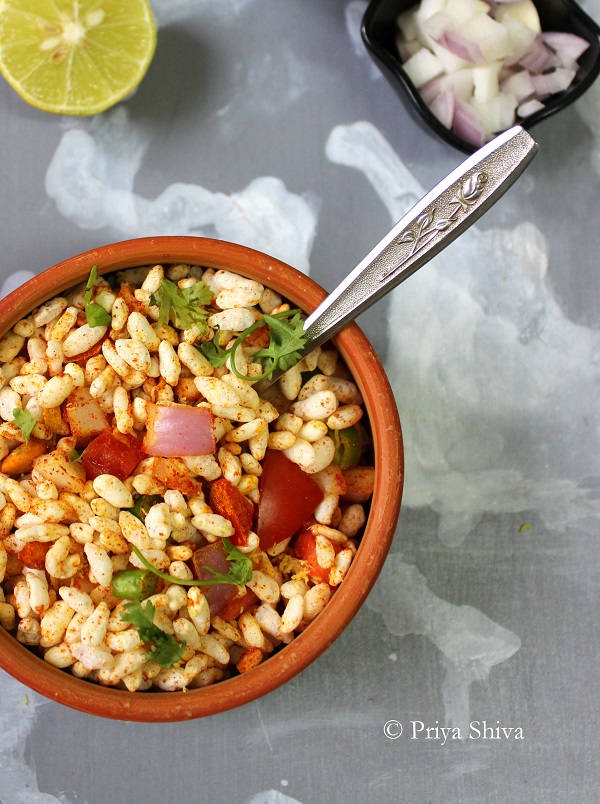 Churmuri - Karnataka Street food Recipe
Ingredients
Puffed Rice - 2 Cups

Roasted Peanuts - 2 tbsp

1

Onion

finely chopped

1

Tomato

finely chopped

Grated carrot - 2 tbsp

Green Chilli - 1

finely chopped

Red Chilli Powder - 1/2 tsp

Turmeric powder - 1/8 tsp

Lemon - 1

Coriander Leaves - 2 tbsp

finely chopped

Coconut oil - 1 tsp

Salt to taste
Instructions
Add puffed rice, roasted peanuts chopped onions, tomatoes, grated carrot, green chillies, red chilli powder, turmeric powder, coconut oil, salt to taste in a mixing bowl and mix well.

Juice the lemon and add it too.

Garnish with coriander leaves and serve immediately.
Recipe Notes
Serve the Churmuri to eat it immediately. Puffed rice will get soggy after sometime.
Adjust spice according to your taste.
You can even add finely chopped raw mango and sev.
Yum