I made some iddiyappams for breakfast and served it with some Kerala Style Vegetable Stew today. I love these Kerala style breakfasts and curry which is cooked in coconut milk. It is healthy and so delicious! You can serve this stew with some appams, parota or even rice.
I'm a breakfast person and loving making these Kerala delicacies. One of my favorite is
kadala curry with puttu
. I love this vegetable stew with iddiyappams too! so, check the recipe and enjoy making it at home.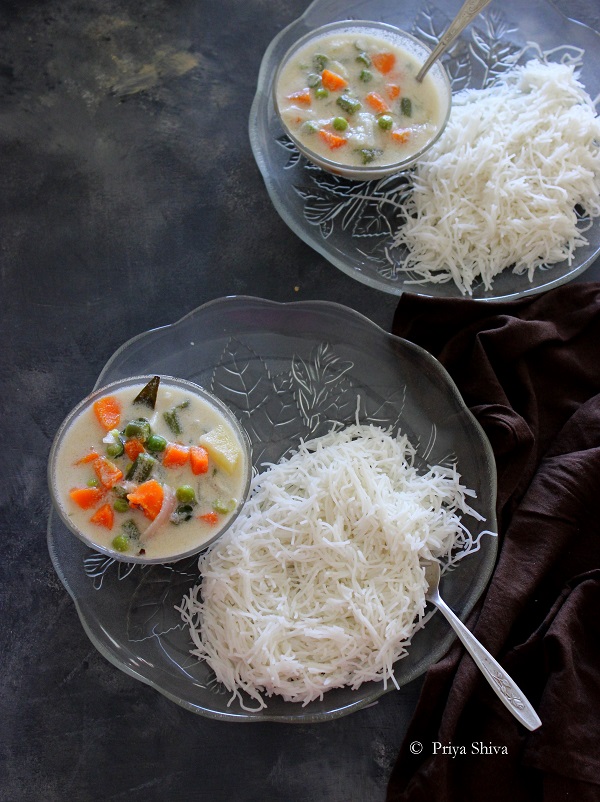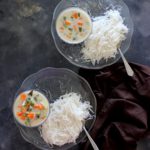 Kerala style vegetable Stew
Ingredients
Coconut - 1

2

Carrot

peeled and chopped

6

French Beans/Green beans

chopped

1

Potatoes

peeled and chopped

Green peas - 1/2 cup

1

onion

peeled and finely sliced

Green chillies - 2

chopped

Curry leaves - 1 sprig

Ginger

grated - 1/2 tsp

Garlic - 2 cloves

finely chopped

Black pepper corn - 4

Bay leaf - 2

Cinnamon - 1/2 inch stick

Cardamom - 2

Salt as per taste

Coconut Oil - 2 tbsp
Instructions
Break one medium size coconut and grate the complete coconut. Add freshly grated coconut and 1 cup of warm water in your grinder and blitz it for few seconds. Strain it through a thin muslin cloth to extract the coconut milk. The first lot will be thick milk and keep it aside in a separate container.

Now again add the squeezed coconut with 1 cup warm water in your grinder and bltiz it and extract extract the second cup of coconut milk and keep this separately.

Parboil chopped carrots, beans, potatoes and green peas.

Heat a pan and add coconut oil. Add sliced onions, garlic and ginger. saute till onions become translucent.

Now add green chillies, curry leaves, cinnamon, bay leaf, cardamom, pepper corn and cardamom and saute for a minute.

Add parboiled vegetables with second time extracted coconut milk and mix it well.

Lower the flame and cover the pan with a lid and let it cook on low flame for few minutes. Keep stirring in between.

Now add the thick first batch of extracted coconut milk and bring it to boil. Add salt to taste and mix it well.

Remove from the flame and serve it hot with some iddiyappams.
Yum