Medhu Vadai or ulundu vada is a delicious snack made in South India especially for breakfast or tea-time. It is also made with for festivals like aadi, Ganesh Chaturthi, Varalakshmi Vratham or any auspicious occasion. It is an integral part of South Indian meal in a wedding which is served on banana leaf.
Watch this video to make Medhu Vadai at home:
Medhu vada are crispy from outside and soft inside and you can simply serve them with some Coconut chutney. One of my readers requested for a step-by-step recipe to make perfect vadas.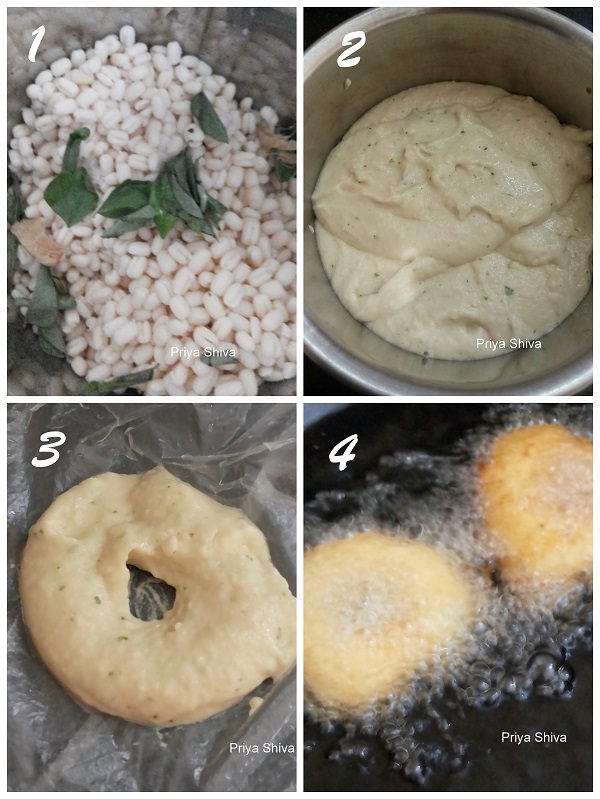 I used Idhayam Mantra groundnut oil to fry these vadas and they turned out to be so perfect. I have used this oil to even make paruppu vadai.
Ulundu means white lentil and this vada is mainly prepared with white lentil (urad dal) which is saoked and then grounded nicely to make a smooth batter. So, sharing a step-wise recipe and hope you all enjoy these crispy vadas for breakfast or snacking!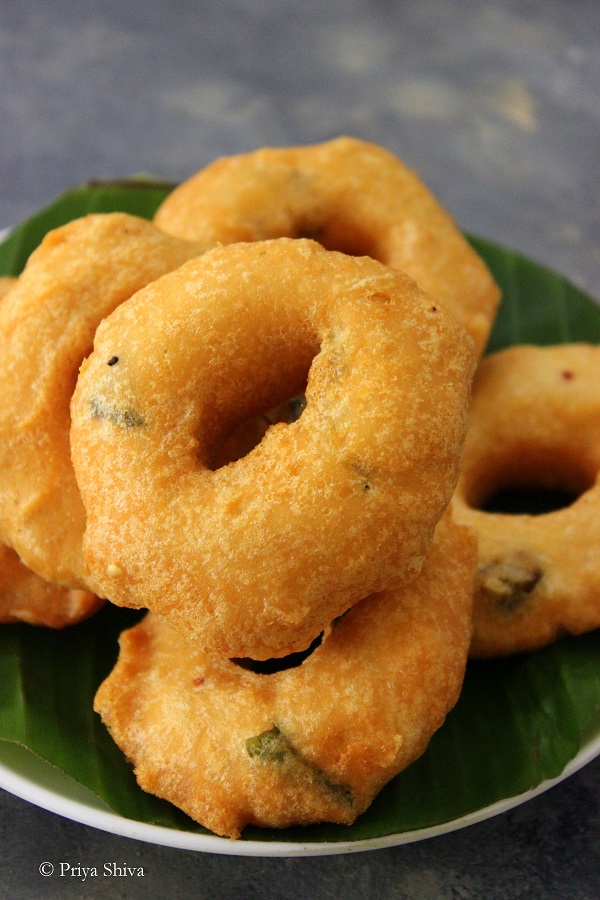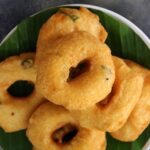 Ulundu Vada - Medhu Vada
Ingredients
Urad dal / White lentil - 1 cup

Green chilies - 2 ( finely chopped)

Grated ginger - 1 tbsp

Curry leaves - 1 sprig (finely chopped)

Salt to taste

Asafoetida - 1/8 tsp

Idhayam Mantra Groundnut Oil for deep frying
Instructions
Clean and soak white lentil in water for 2 hours.

Drain the water and add urad dal, ginger, a pinch of asafoetida, salt to taste and grind it to make a smooth paste. Add minimum water to grind and then transfer the batter into a bowl. Add chopped curry leaves and green chillies in it.

Heat some oil in a frying pan. Take a spoonful of batter in a wet plastic sheet and shape it into a circle. Wet your hands and make a hole in between and drop it into the oil carefully. You can even shape it in your hand once you become an expert in making vada.

Deep fry in oil on low flame till it turns golden brown. Serve it hot with some coconut chutney. 
Recipe Notes
You can add 1 tbsp rice flour in the batter to make vadas even more crispy.
To know that batter is fluffy and ready, drop a small portion in water. It should be floating. If it doesn't float, check if the batter is smooth or grind it again. Sprinkle water while grinding.
Yum