Paruppu Vadai is a delicious snack made with chana dal also known as split chickpeas. We prepare it  around festivals in South India and it can be easily prepared at home. Paruppu vadai are crispy from outside and soft inside and you can even serve it as an evening snack. So, sharing a step-wise recipe for making parappu vadai today.
Check out the step-wise video to make aama Vadai :
Paruppu vadai is also known as aama vadai. Paruppu means lentil. I always wondered how it got the name as aama vadai. Aama means tortoise in Tamil. Maybe the vadai is so crispy from outside that it got its name. If you know the reason behind it, please do share it with me in comment section.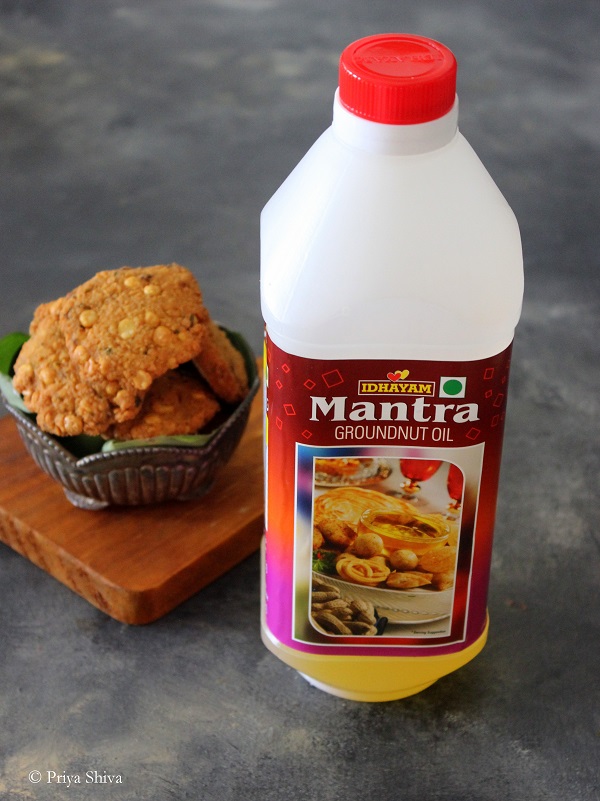 I have used Idhayam Mantra groundnut oil to cook these Paruppu vadai. I have been used Idhayam oil for a long time and it is a brand I can trust. These are the some of the reasons I use Idhayam Mantra groundnut oil especially for deep frying:
It has a high smoking point. So, it is perfect for preparing snack and does not soak up too much oil. Other refined oils take a lot of time to heat up and it can be harmful.

It is reusable. Even after deep frying snacks in the oil, I can again use it for cooking curry, stir-fry veggies etc.

It has a neutral taste and does not change the core taste of the dish.
Click here to know more about Idhayam Mantra groundnut oil.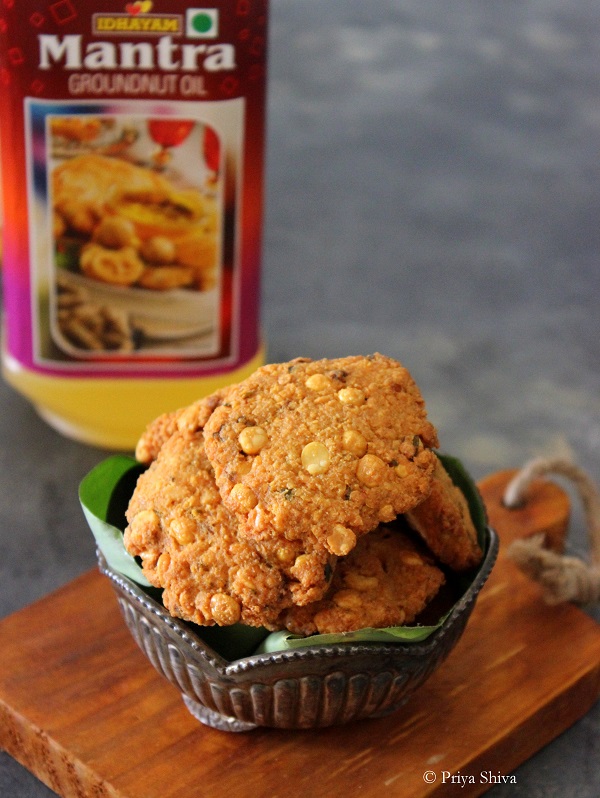 Check out the recipe to make Paruppu Vadai for the coming festivals like Avani avittam, Navratri or even for evening snacking. 
You can also try out Omapodi or Ribbon pakoda recipes from my blog and prepare using Idhayam Mantra groundnut oil.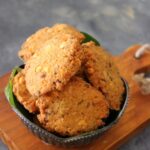 Paruppu Vadai - aama vadai
Ingredients
Chana dal/split chickpeas - 1 cup

Red chillies - 2

Green chilli - 1

Curry leaves - 2 sprig

Asafoetida - 1/8 tsp

Salt to taste

Idhayam Mantra Groundnut Oil for deep frying
Instructions
Clean and soak chana dal in some water for 2 hours. Drain the water completely and keep 2 tbsp of soaked dal separately.

Add the remaining portion in your grinder along with red chillies, green chilli, salt to taste, asafoetida and curry leaves and coarsely grind it. Transfer the content in a bowl along with the dal kept seperately and mix it well.

Heat oil in frying pan. When oil starts getting smoky, reduce the flame.

Make small balls of the lentil batter and flatten the ball with your hands and drop it in oil carefully. Fry it on low flame for few minutes.

When it turns golden brown on both sides, drain excess oil, remove from the pan and serve it hot. 
Recipe Notes
Do not over soak the lentil. Drain the water completely before grinding it.
This is a sponsored post but opinion shared is completely mine. 
Yum