Omapodi is a popular snack in India. It is easy to make, crunchy and usually loved by everyone. You can also add this snack to make street food, chaat, snacks etc. I usually love to have them in the evening with a cup of tea.
Check out the video to make Omapodi at home:
Omapodi is slightly different from Sev. We South Indians roast and add carrom seeds in it. As far as I know and have tasted, sev does not have carrom seeds in it. Sev is popular in North India and we South Indians call it Omapodi. We also add more rice flour and it make Omapodi more crunchy. We make it during festival time especially for Diwali. Diwali is a time when we all are busy making snacks and sweets..The environment and smell in house is of all goodies and everyone is excited for the coming festivities.  I just love to see the nights and candles everywhere. Even the streets and shops are lighted with beautiful lightings and candles. So, sharing an easy snack recipe today and hope you all try it out and enjoy!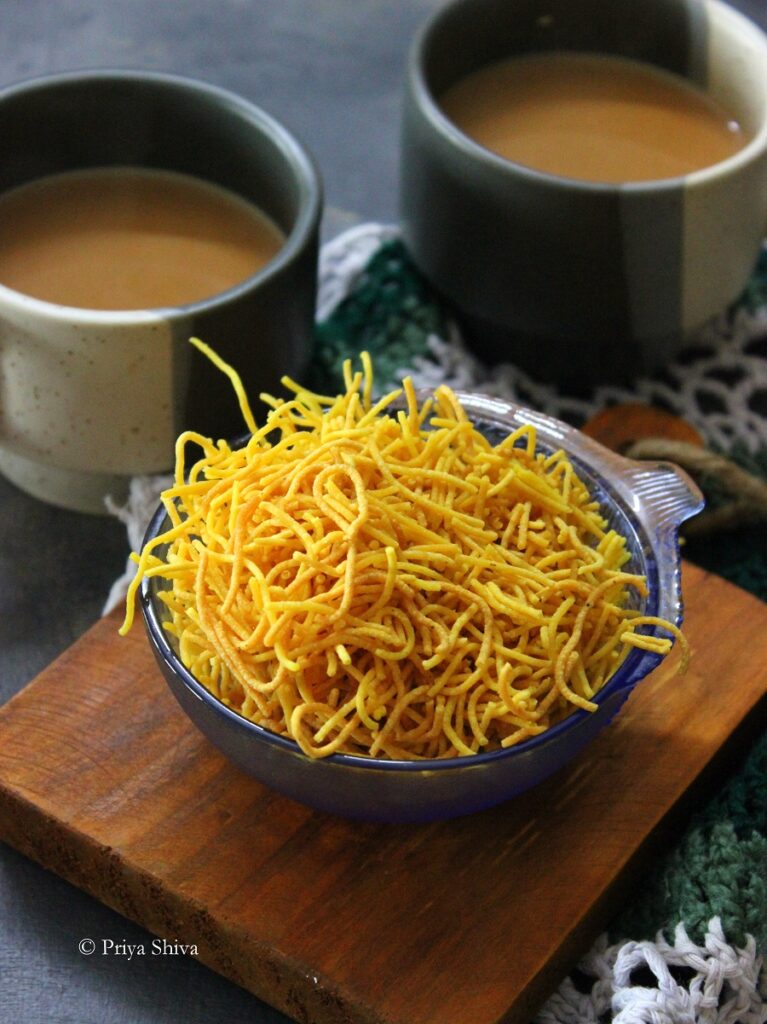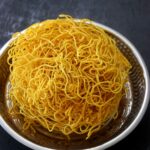 Omapodi Recipe
Ingredients
1

cup

Besan/ chickpeas flour

1/2

cup

Rice flour

1

tsp

Carom Seeds/Ajwain/Omam

1

tsp

Red chilli powder

1/4

tsp

Turmeric powder

2

tsp

Hot oil

Salt to taste

vegetable Oil for deep frying
Instructions
Roast carom seeds in a small frying pan for few minutes on low flame and grind it to make a fine powder.

Sieve gram flour, rice flour, carom seeds powder, red chilli powder, turmeric powder and salt to taste in a mixing bowl.

Add hot oil and then start adding water little by little to make a soft dough. 

Add the dough in the pressing machine. Watch video.

Keep the oil in a pan ready for deep frying. Before we start making sev make sure to check if oil is ready. You can check by dropping a small ball of the dough in the hot oil and if it immediately comes on top, oil is ready. Lower the flame and press the pressing machine in a circular motion around the pan.

When sev turn golden colour on both sides, remove from the pan and keep it on a tissue to drain the excess oil.

When it cools down, crush it lightly with hands.

Transfer the content in an airtight container and enjoy it for snacking.
Recipe Notes
You will need pressing machine and use the small holes plate to make this snack.
Do not fry on high flame or it will easily tuen into dark brown colour.
You can also add few roasted curry leaves and peanuts.
Yum