Thepla is a form of Indian flat bread. The dough is prepared mainly with wheat flour, some gram flour mixed with curd and spices. Today I'm sharing a recipe to make some delicious Methi Thepla which you relish with some spicy mango pickles and curd.
Thepla is a popular flat bread in Gujurat, India. Methi thepla is made with fresh fenugreek leaves. I love to use fresh fenugreek leaves in curry and flat breads. You can even add kasuri methi in place of fresh methi leaves. Dried fenugreek leaves are called kasuri methi in India. So, sharing an easy recipe to make some yummy Methi Thepla today.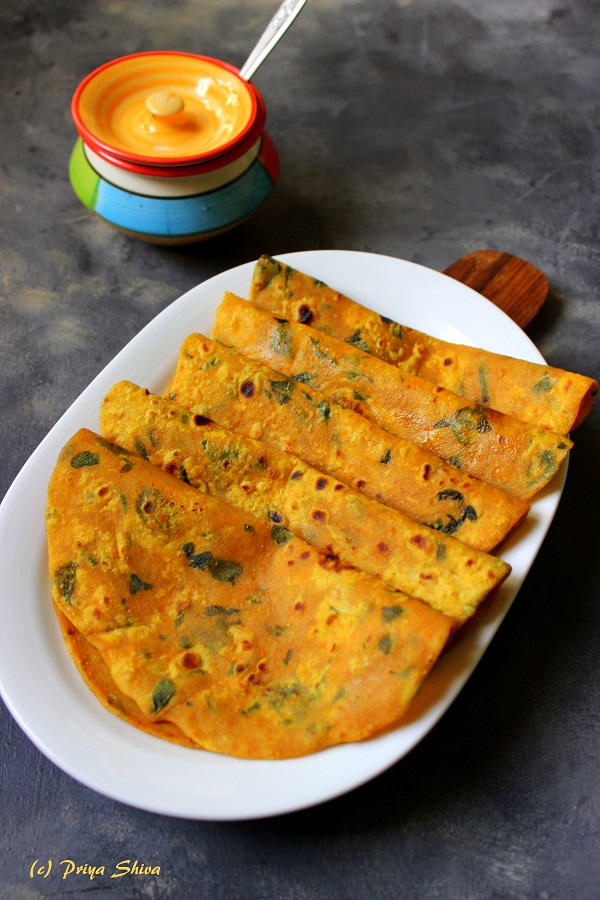 Methi Thepla / Fenugreek leaves flavoured Indian flat Bread
Ingredients
Whole wheat flour - 2 cups
Besan / gram flour - 2 tbsp
Methi/Fresh Fenugreek leaves - 1 cup
Curd / Yoghurt - 3 Tbsp (Vegans can add water in place of curd)
Turmeric powder - ¼ tsp
Chilli Powder- 1 tsp
Asafoetida - a pinch
Salt to taste
Vegetable Oil - 4 tbsp
Instructions
Clean fenugreek leaves nicely and finely chop it.
Add wheat flour, gram flour, methi leaves, curd, turmeric powder, chilli powder, asafoetida, salt, 1 tsp oil in a large bowl and knead well to make a soft dough. Add water when required.
Cover the dough and keep it aside for 20 minutes.
Divide the dough into 10 to 12 equal parts and roll out each portion into thin circles. Use extra flour for dusting to roll it evenly.
Heat a Tava/griddle and cook each thepla using a little oil till it turns golden brown.
Serve it hot with Curd and some spicy pickle.
Yum