Akki roti is a popular breakfast of Karnataka state of India. It is usually served with a chutney for breakfast and many families even prefer eating it for lunch with some yummy curry. It was during my trip to Nagarhole that I tasted these rice roti and got curious to learn it. We stayed in a homestay there where I learnt that it is also called Coorgi roti and they usually make it with leftover rice.
Watch this quick video to make these soft Akki roti!
I hope you enjoyed watching the video. I have served these rice rotis with Tomato Thokku. I'm also sharing a detailed recipe. So, now you have a lovely recipe in hand to use your leftover rice..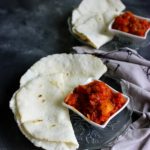 Akkit Roti - Coorgi Rice Roti
Ingredients
Cooked rice - 1 cup

Rice flour - 1 cup

Salt to taste
Instructions
Grind cooked rice with little water to make a paste.

Combine cooked rice paste, 1 cup rice flour and salt in a mixing bowl.

Knead to form a soft dough. Add extra flour or water if needed.

Take a lemon sized ball of dough and dust it with dry rice flour.

Now flatten it evenly in a round shape. Do not press very hard while rolling.

Heat the tava/griddle for a minute as the griddle should be hot. Place the flattened dough on the griddle and let it cook for few seconds.

Flip it and let it cook for few seconds.

Place it directly on high flame with the first side down. Remove from flame as soon as it puffs like a balloon with the help on a tong.

Serve it hot with your choice of Curry or chutney.
Yum