This delicious 2 minute Eggless Mug cake is a perfect dessert for any occasion. Don't we all love things which can be made easily? So, here's a recipe which you can save whenever you have a desire to fix quick dessert for yourself.
I'm basically a sweet-tooth person and thought of making an instant mug cake with a combination of chocolate and coffee flavor. I simply love this quick recipes and hope you also try and enjoy today. Enjoy it with your favorite book or music or whatever you love to do on a lazy day 🙂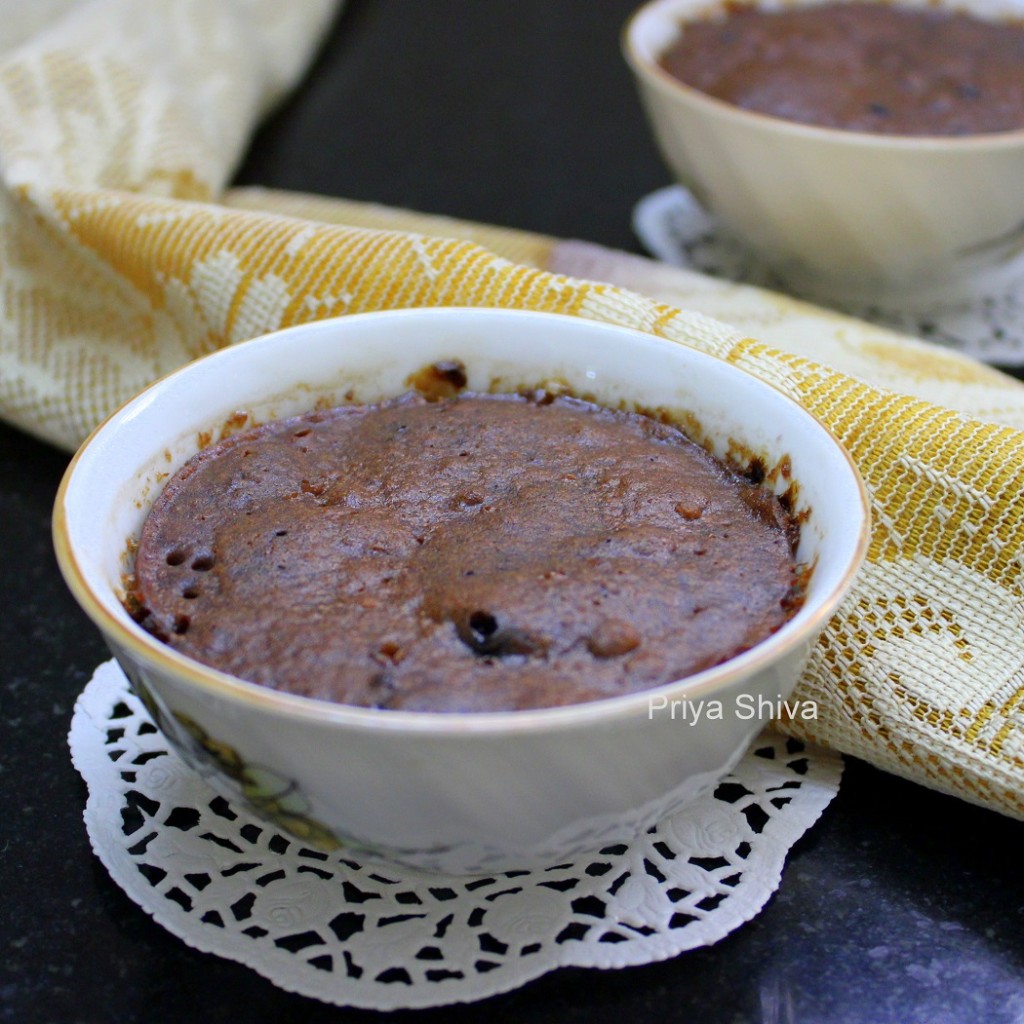 I had shared a recipe earlier for Chocolate Mug Cake and simply tweaked the recipe to make a chocolate coffee mug cake. I hope you make this eggless mug cake and enjoy!
Eggless mug cake – Chocolate Coffee Mug cake
Author:
Prep time:
Cook time:
Total time:
Make an eggless 2 minute chocolate coffee cake in a mug or microwave safe cups and enjoy!
Ingredients
4 tbsp all purpose flour / maida
1 tbsp unsweetened cocoa powder
1 tbsp Instant coffee powder (I used Sunrise)
4 tbsp powdered sugar
A pinch of baking soda
A pinch of Salt
4 tbsp cooking oil ( I used canola oil)
4 tbsp milk
1/2 tsp vanilla essence
Instructions
Add all dry ingredients – all purpose flour, sugar, cocoa, coffee powder, baking soda, salt  in a bowl and mix it well.
Add milk, cooking oil, vanilla essence and mix it well to make sure there are no lumps in it.
Grease 2 microwave safe mugs with oil and pour the batter equally in each mug. Only fill 1/2 the mug as it will rise when you microwave. Microwave it for 1 minute at 600 D.
Again microwave it for a minute on high power. (Highest is 900 D in my microwave)
Remove from the microwave and let it cool down for a few minutes.
Yum