Make Eggless Halloween witch finger cookies for Halloween treat. Halloween or All saints Eve is a yearly celebration in many countries observed on 31st October eve, the eve of the Western Christian feast of All Hallows' Day. You can read more about the customs and why it is celebrated in Wikipedia. I just thought of making some sugar cookies for some fun with my little boy. It was fun making these cookies with my little boy who helped me in shaping the dough, licking the jam, giggling over almond nails..
You can easily make 15-20 cookies depending on the size of the cookies.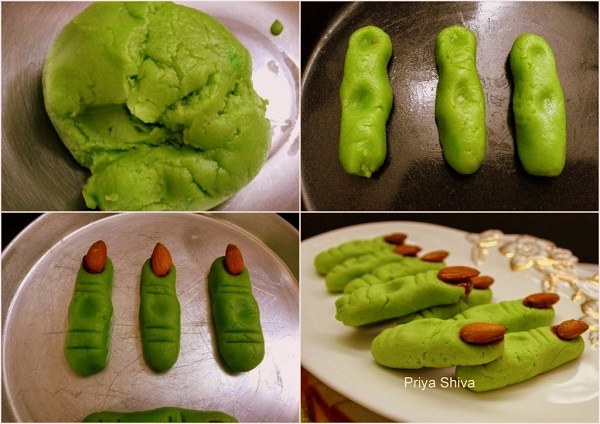 I hope you also enjoy making these cookies with your children and have a fun-filled Halloween day!!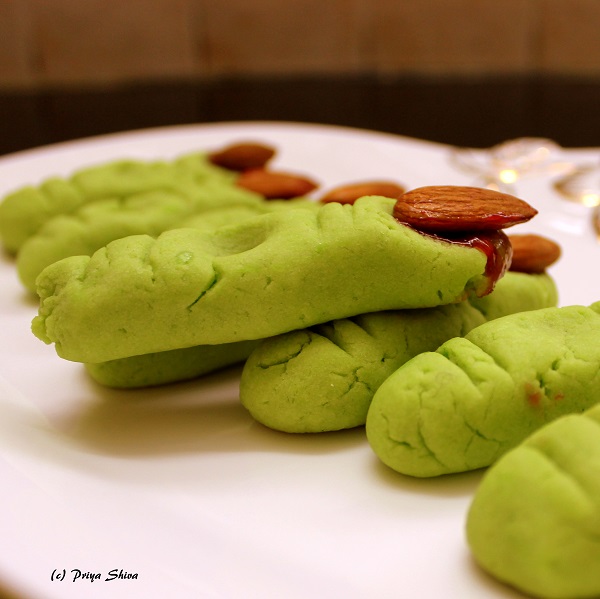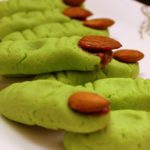 Eggless Halloween witch finger cookies
Ingredients
All purpose flour / Maida - 1+1/2 cup

Butter (at room temperature) - 1/2 cup

Sugar - 1/2 cup

Vanilla extract - 1/2 tsp

Milk - 3 tbsp

Baking powder - 2 tsp

Almonds - 14-16

Mixed fruit Jam - 2 tbsp

Green food color - 1/8 tsp
Instructions
Preheat oven at 180 degree Celsius.

Line cookie sheets with parchment paper or grease it with some oil.

Mix the food color in milk and keep it aside.

Sift the flour and baking powder and keep it aside.

Cream the butter and sugar till light and fluffy.

Add milk and vanilla extract and mix it well.

Now add the flour, mix it well and make a cookie dough.

Roll a tablespoon of dough into a finger shape. Press lightly on the sides. Place the fingers about 2-3 inches apart on a cookie tray. Make a thumb impression on one end to stick almonds for nails. Lightly apply jam on one side of the almond and stick it on the end.

Use a table knife or tooth pick to make three crosswise knuckle marks.

Bake about 12 minutes. Do not over bake else they will become very crunchy and start changing colour. Let it cool down completely and Enjoy!
Recipe Notes
You can add extra milk if the cookie dough is too tight and you are not able to shape it. You can use the same cookie dough to make plain sugar cookies and using cookie cutter, shape them and decorate as per your preference.
Yum