One has to make these Fluffy, Eggless Orange chocolate chip muffins for breakfast in the season of oranges. It is made with real orange juice, orange zest, loaded with chocolate chips and the house smells of the fresh bakes…
These Orange Muffins always remind me of my first TV shoot. It was one the most exciting day of my life as I sat and watched myself cooking for a cookery show! My first appearance in a TV show called "Konjum Soru Konjum Varalaru" in a tamil channel ( Puduyugam TV) and one of the most incredible experience of my life. I had fun baking these easy

orange chocolate chip muffins

 and shooting. I added sugar while blending the juice. So, sharing the recipe with you all as they all loved it…
You can also try these Eggless Whole wheat dates muffins from my blog.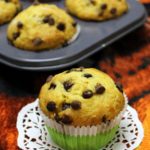 Eggless Orange Chocolate chip Muffins
Ingredients
All purpose Flour - 2 cups

yogurt - 2 tbsp

Vegans can use Soy yogurt

Fresh Orange Juice - 1 and 1/4 cup

Chocolate Chips - 1/3 cup

Granulated Sugar - 1/3 cup

Baking soda - 1/2 tsp

Baking powder - 2 tsp

Cooking oil - 1/4 cup

Vanilla essence - 1 tsp

Orange Zest - 1 tbsp
Instructions
Add 3-4 oranges in your blender and juice it. Add sugar and blend it together. Strain it and keep this juice ready.

Scrape orange peel (1 tbsp) and keep it ready for orange zest.

Sift all purpose flour, baking soda and baking powder into a bowl.

Now add orange juice, yogurt, cooking oil, vanilla essence, orange zest and fold. Do not over-mix, only the flour needs to get wet. Add choco-chips and give a quick stir.

Preheat oven at 180 degree Celsius.

Grease the muffin cups with some oil evenly or use liners and add the batter to it. Make sure to fill each cup till 3/4 cup. Add some more choco-chips on the top in each cup.

Bake at same temperature for 20 minutes. Check after 20 minutes by inserting a toothpick at the center of the muffin. If it comes out clean, then your muffin is done or else continue baking for 5 more minutes and keep a watch on it.

Once it has cooled down, remove from the cup and enjoy!!
Yum