Baking is like a therapy for instant happiness. You cant help yourself smiling the minute something starts baking and house gets filled with the aroma.  I decided to bake something special for my little one and thought of trying something different. I decided to bake some Eggless whole wheat orange cupcake. These cupcakes are perfect for your whole family and can be enjoyed as a tea time cake.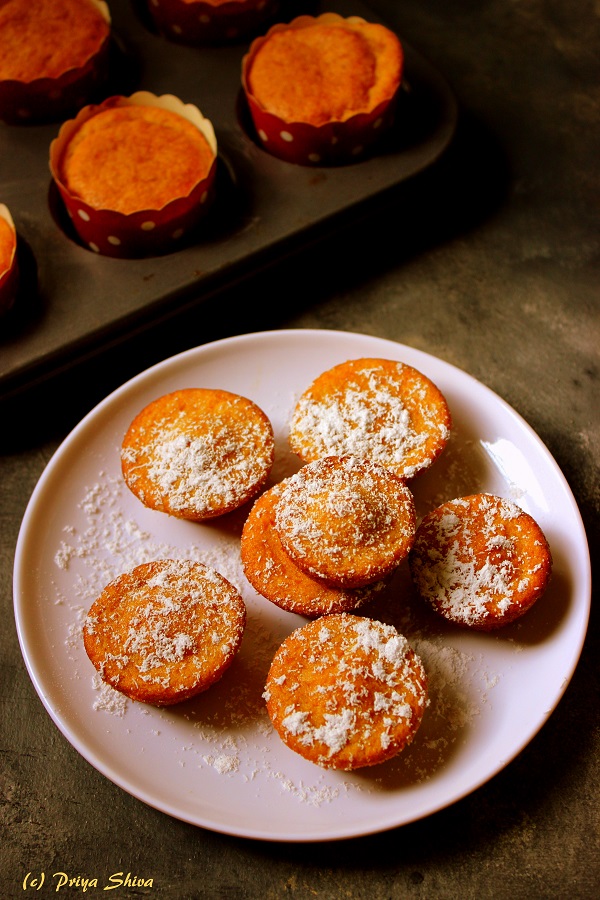 Winter is the perfect time to enjoy some baked goodies with a glass of warm tea or coffee. Its a season of oranges and one of my favorite fruit. The citrus flavor is so refreshing! Watch a quick video to make these delicious Eggless Whole wheat Orange Cupcake.
 I'm also sharing a detailed recipe and hope you all enjoy making it. You can even bake some mini ones and sprinkle some powdered sugar on it.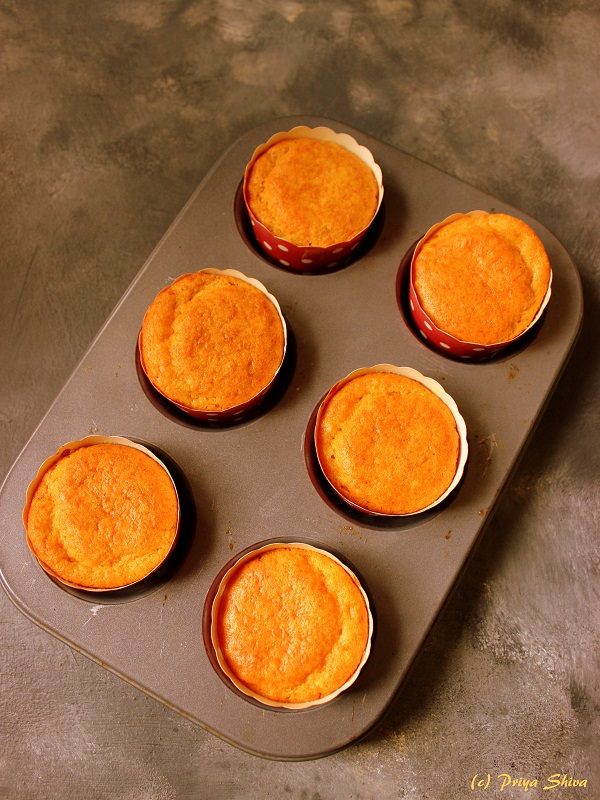 Eggless Whole Wheat Orange Cupcake
Author:
Prep time:
Cook time:
Total time:
Ingredients
Whole wheat flour – 1 & 1/2 cups
Sugar – 1 cup
Butter – 1/3 cup
Milk powder – 3/4 cup
Milk – 1 cup
Vanilla Essence – 1 tsp
Orange Zest – 1 tsp (scraped peel of orange)
Fresh orange juice with pulp (remove seeds) – 1 cup
Baking Powder – 1 & 1/2 tsp
Baking Soda – 1 tsp
Instructions
Preheat oven at 180 degree C/ 356 F.
Peel oranges and remove the seeds. Make sure to juice it with some pulp and keep it aside.
Sift wheat flour, milk powder, baking powder, baking soda all together and set it aside.
Add sugar, butter in a bowl, orange juice, milk and blend it well until sugar completely dissolves.
Add orange zest and vanilla extract and mix.
Now add sifted flour and blend it well. Make sure there are no lumps in the batter.
Grease the cupcake cups with some oil evenly or line them with cupcake liner. Add the batter to it. Fill each cup till 2/3 cup.
Bake at same temperature for 20 minutes. Check after 20 minutes by inserting a toothpick at the center of the cake. If it comes out clean, then your cake is done or else continue baking for 5 more minutes and keep a watch on it.
Once it has cooled down, remove from the cup and enjoy!!
Notes
Juice oranges just before making cupcakes as fresh juices tend to get bitter if you keep them for a long time.[br]You can also add nuts and raisins to make this cupcake more healthy.
Yum