Nannari syrup is often used to make refreshing summer drinks and it is made with nannari root. The roots of sarsaparilla which is also known as Nannari root is a herbal root. It mainly helps to purify your blood, cools your body and heals skin diseases. It also helps in curing urinary disorders, wheezing, anaemia and arthritis.
Nannari syrup is prepared by breaking nannari roots and crushing it. Then its boiled with water and sugar to make a syrup. So, sharing the recipe and hope you all enjoy making Nannari lemonade or sherbet with it. You can simply add 2 teaspoons of this syrup in chilld water and enjoy!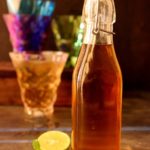 Nannari Syrup
Ingredients
1/2

cup

Nannari Roots

3

cups

Water

2

cups

Sugar
Instructions
Break the root with a hammer or a mortar and pestle and remove the white part.

Crush the remaining part and keep it in a bowl.

Heat a pan and add powdered nannari and water and sugar and boil it for 5-7 minutes till it starts thickening.

When it cools down transfer it into a glass container and you can store it in a cool place for upto 6 months.
Yum