Onion Bajji and potato bajji are my all time favourite snack and who will not love some crispy snack especially on a rainy day with a cup of ginger tea. I love watching pouring rain from my balcony. I guess the gloomy weather and earthy smell makes you hungry! I would love to have a plate of these delicious fritters and a cup of ginger tea on any given day.  So, sharing the recipe and hope you all enjoy it too!
Check out this quick video to make Onion and potato bajji for snacking.
This snack is also known as onion pakoda & potato pakoda in North India. These are gluten-free snacks and the addition of rice flour adds a nice crispiness to these fritters. They are pretty easy to make. So, just follow the steps and you can enjoy them with your family. S
erve it hot with some tomato ketchup or Minty chutney.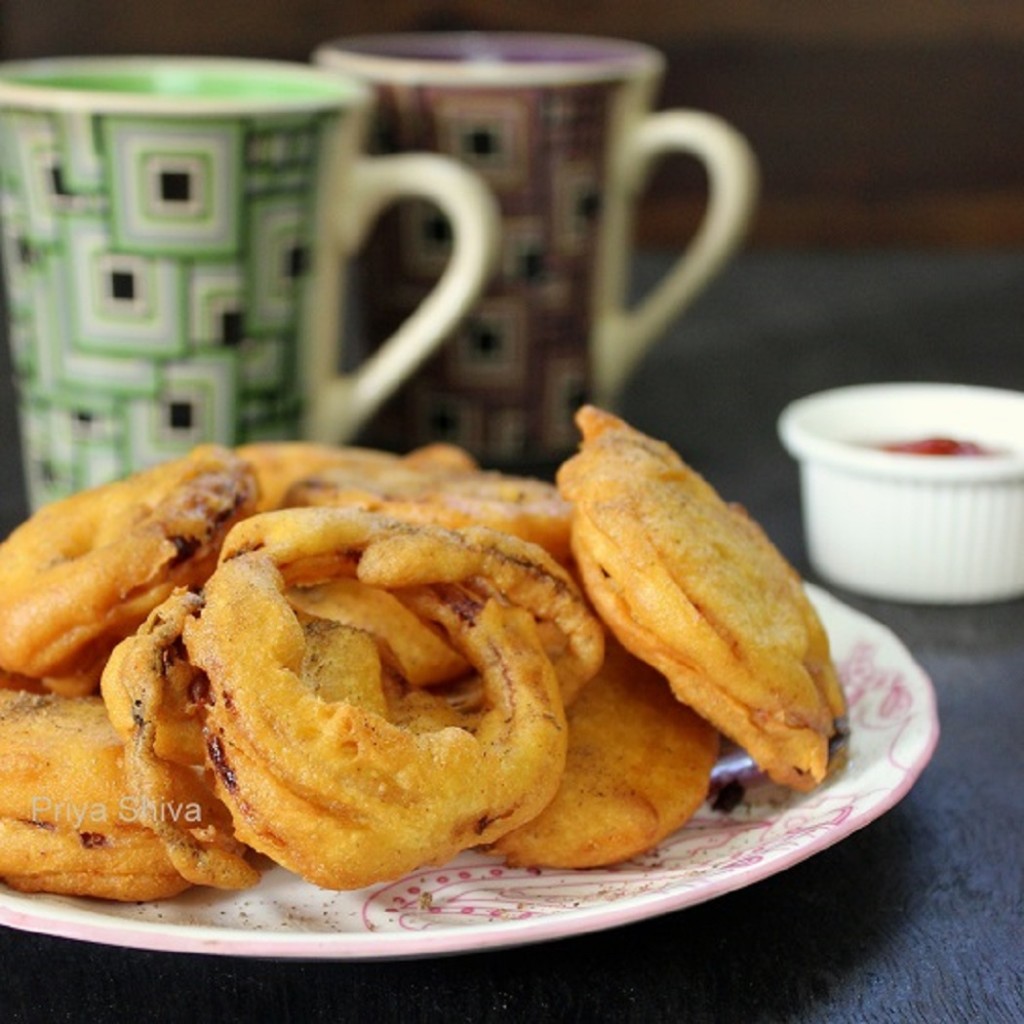 Onion Bajji & Potato Bajji Recip
Ingredients
Potatoes - 1 (peeled and sliced)

Onions - 1 (peeled and sliced)

Besan/ Chickpeas Flour - 1/2 cup

Rice flour - 2 tbsp

Ajwain/Carom seeds - 1/4 tsp

Kashmiri Red Chilli powder - 1/2 tsp

Baking Soda - 1/8 tsp

Salt to taste

Idhayam Mantra Groundnut Oil for deep frying
Instructions
Peel onions and potatoes and cut them into 2-3 mm thick rounds and keep them ready in a plate.

Add besan, rice flour, turmeric powder, red chilli powder, ajwain, baking soda and salt in a mixing bowl.

Slowly start adding some water and make a smooth batter. Do not make the batter runny or you will not be able to quote it on the sliced vegetables.

Heat oil in a frying pan. To check if oil is ready, add a drop of batter to the hot oil. If it puffs up right away, oil is ready for frying fritters.

Dip sliced potatoes in the batter and fry them in the oil till they turn golden on both sides. Next fry sliced onions dipped in the batter till they turn golden brown.

Serve it hot with some tomato ketchup or Mint chutney. 
Yum