Vangi Bhaat is a very popular rice dish from Maharashtra, India. Brinjal Rice is equally popular in Tamil Nadu, India and known as kathirikai Sadam with little variation. It is also known as vangi bath. To prepare this dish, we start by preparing the masala powder which is used to make this dish along with fried brinjals/eggplants. The aroma of the masala itself is enough to pull anybody to have this dish. Click here for the recipe.
 Lets learn how to prepare Vangi Bath in quick and easy video using freshly grounded spices:
I have used Idhayam Mantra Groundnut Oil to prepare brinjal rice. Read the complete recipe of vangi Bhaat and enjoy with some onion raita.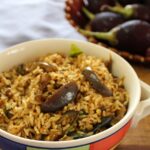 Vangi Bath - Brinjal Rice
Ingredients
Raw Rice - 1 Cup

Brinjal/eggplants – Sliced

Onion – 1 medium

Turmeric Powder - 1/4 tsp

Asafoetida/hing - 1/4 tsp

Vangi Bath Masala - 2 tsp

Mustard seeds - 1 tsp

Curry leaves - 1 sprig

Salt to taste

Idhayam Mantra Groundnut Oil - 2 TBSP
Instructions
Clean and pressure cook rice with 2+1/4 cups of water. Spread the cooked rice in a plate and keep it aside.

Add 2 tbsp oil in a pan and when it's warm, add mustard seeds. When the seeds crackle, add asafetida, onions and curry leaves and sauté till onions turn translucent.

Add brinjal and sauté for few minutes till they are cooked and soft.

Add turmeric powder, Vangi bath masala and mix well. Now add cooked rice, salt to taste and mix well.

Remove from flame, transfer in a bowl and serve with raita.
Yum