I think Sweet Potato French Fries baked to crispy perfection are the best snack ever. Since they're baked and not fried, I feel less guilty about eating them. Now, you can imagine me sipping my cup of Ginger tea with these crispy Sweet potato fries :)..
I think my french fry slicing technique has also improved. It still needs improvement but I was happy with the outcome. The potatoes have to be sliced in even thickness or they will not bake properly. Some will bake faster and others might not turn crispy. I just sliced them in 3 inch length and 1/4th inch thickness. So, sharing the Sweet Potato French Fries Recipe today. You can choose seasoning of your choice. I just used some black pepper, red chilli flakes, dried oregano and salt for seasoning. Bake them and enjoy with your family…
****You can alternatively deep fry them in oil. If you choose to deep fry, add seasoning after frying them.
Try out these Baked parsely potatoes recipe too from my blog and you will love it!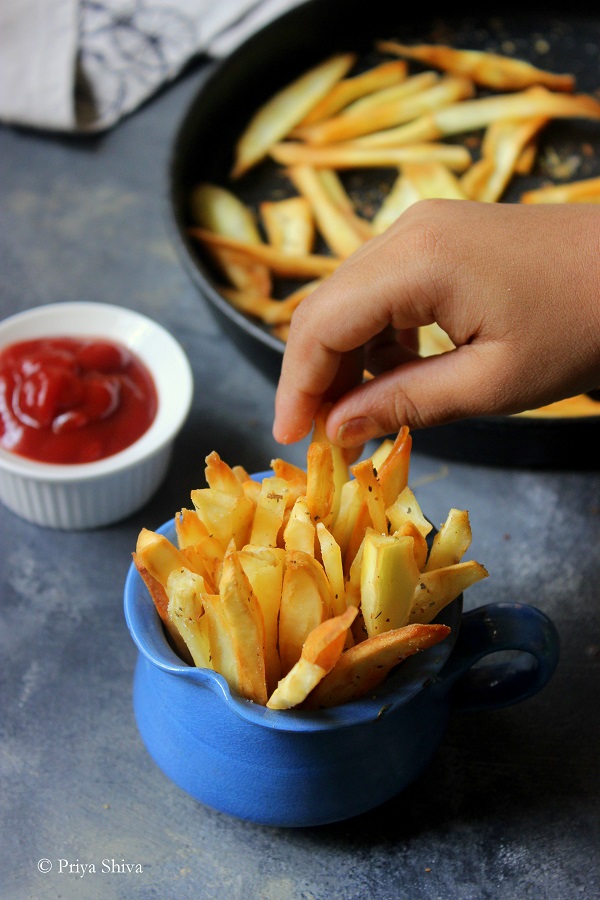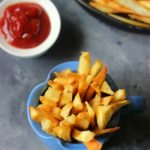 Sweet Potato French Fries Recipe
Ingredients
Sweet potatoes - 3

Vegetable oil - 6 tbsp

Dried oregano - 1 tbsp

Red Chilli flakes - 1 tbsp

Black pepper powder - 1 tsp

Salt to taste
Instructions
Preheat the oven to 200 °C / 400 °F.

Clean the sweet potatoes, dab dry with a towel, peel it and slice it evenly in 3 inch length and 1/4th inch thickness.

Add the sliced sweet potatoes, oil, dried oregano, red chilli flakes, black pepper powder and salt in a mixing bowl. Mix it nicely so that oil and spices coats nicely on the sliced potatoes.

Spread these sliced potatoes on a non-stick baking tray.

Place it in the oven and bake at same temperature for 20-25 mins. Turn once with a spatula during baking (after 10 mins) and keep an eye on them for the last 10 minutes to ensure they don't overcook.

Serve them with your favorite dip or tomato ketchup.
Yum