I recently received Preethi Electric Pressure Cooker and I decided to make an easy Millet Khichdi in it. I love cooking in pressure cooker. It could be a simple rice, curry or even a cake. So, I was more excited to try out a dish in Preethi Electric Pressure Cooker. I'm glad that I own this cooker and it is my partner in daily cooking. There are a lot of Pressure Cookers out there so I hope this review helps you make a more informed decision when you finally make a purchase.
I have used electric rice cooker earlier. It has its limitations as the seasoning (tadka) for curry or biryani cannot be done in it. Preethi Electric Pressure Cooker changed my perspective. I'm sharing a quick video and you will see the magic for yourself. It is perfect to cook one-pot meals like pongal, khichdi, pilaf etc. Check out the video for Millet khichdi and see for yourself how easy it is to use Preethi Electric Pressure Cooker.
Few of the features which I loved in Preethi electric cooker are :-
5 liter 8-in-1 Programmable Pressure Cooker – Cook biryani, rice, gravy, meat, curry, pongal, idli, legumes like chickpeas or rajma using the set programs. You can even cook the seasoning in it and cook up to 1 kg of rice.
3 adjustable food texture options – This option gives you the liberty to cook dish in your choice of texture. For example – I would prefer the rice to be mushy for a baby and biryani to be more coarse.
Freedom from Pressure Cooker Whistle – I can preset the program and carry on with other work. No need to stand near the stove anymore or worry about spilling.
Keep-warm mode – Once the dish is cooked, it automatically comes to the keep-warm mode and it holds the temperature of the food until you are ready to serve.
Non Stick Al Pan – I don't have to worry about rice or curry sticking at the bottom of the pan.
Easy to handle and clean
On-demand – You can even cook other dishes than those available in preset menu. You can adjust timer and texture in it.
Click here for more details about this wonder Preethi Electric Pressure Cooker.
I'm going to use it on daily basis and swap it for all my Pressure cooker needs. I'm sure that Preethi Electric Pressure Cooker is an appliance which will be useful for each and every household. So, check out the details and make your life easier with Preethi Electric Pressure Cooker. Read the recipe for Millet Khichdi and watch the video. You can serve this dish with raita and pickle.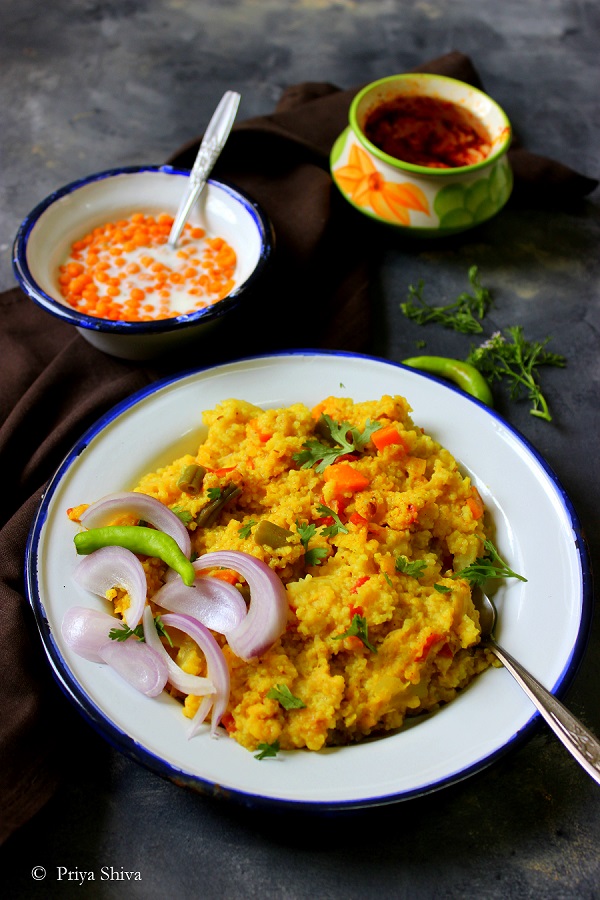 Millet Khichdi – Preethi Electric Pressure Cooker Review
Recipe Type
:
Rice, One-pot meal
Author:
Prep time:
Cook time:
Total time:
Ingredients
Little Millet / Saamai – ½ cup
Moong dhuli/yellow lentil/split green gram – ¼ cup
Carrot – 1 (chopped)
Potato – 1 (chopped)
French beans – 6 (chopped)
Turmeric powder – ¼ tsp
Garam masala – ½ tsp
Salt – As needed
Vegetable oil – 1 tbsp
Cumin seeds – 1/2 tsp
Ginger – 1 tbsp (grated)
Green chillies – 1 (chopped)
Onion – 1 (finely chopped)
Tomato – 1 (finely chopped)
Coriander leaves for garnishing
Instructions
Clean and soak millet-lentil in enough water for 30 minutes. Drain the water.
Place the non-stick pan inside the preethi electric pressure cooker and switch it on. Set it to pongal program.
Add oil and temper with cumin seeds and let it crackle.
Now add chopped onions. When onions turn translucent, add ginger and green chillies and give a quick stir.
Now add tomatoes and saute until tomatoes are mushy.
Add garam masala, turmeric powder, chopped vegetables and mix well.
Now add 2+1/2 cup of water.
Add the soaked millet-lentil, salt to taste and give a quick stir.
Close the cooker and wait till it automatically comes to "warm-mode".
Switch off the electric pressure cooker and transfer in a serving bowl.
Garnish with coriander leaves and serve with raita and pickle.
Notes
Khichdi is usually mushy and soft. So, you can adjust water according to your preference.
*****I received a free product but all opinions shared are mine after using the product******
Yum