Schools are closed and summer holidays have started for my kid. It is a perfect time to treat him with goodies, spend more time with him and have fun. So, to kick start the fun, I made these Salted Caramel Glazed Donut Balls. My kiddo loved it and I'm a happy mom!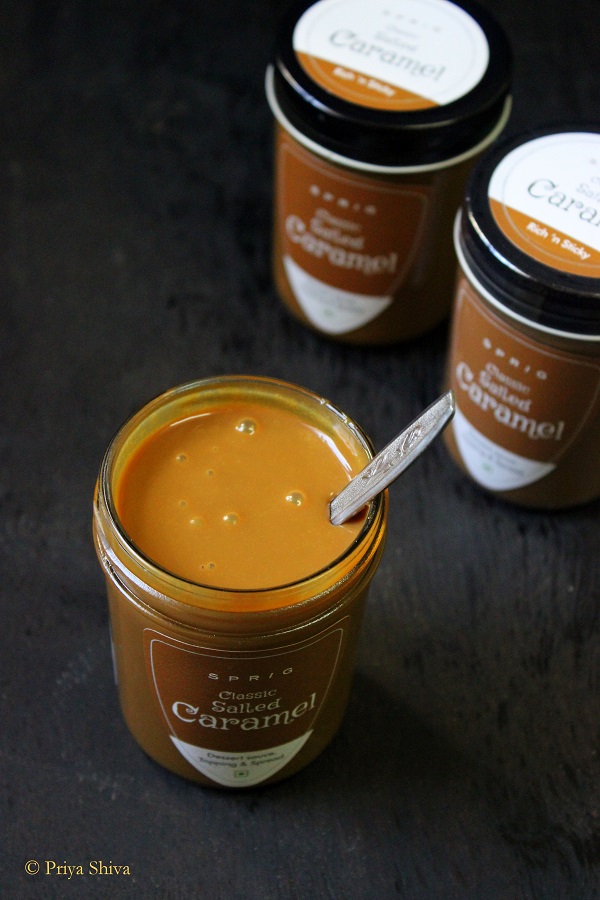 I have used Salted caramel dessert topping which I received from Sprig. You will love Sprig gourmet products and and you can click here to check more details about their products.
I have already shared few recipes using Sprig dessert toppings like Salted Caramel Banana Biscuit Pudding, Dulce De Leche Nutty Puffed Rice Balls, Salted Caramel Coconut Banana Pancakes, Dulce De Leche Coconut Burfi, Dulce De Leche Banana Nutty Ice cream. So, sharing yet another recipe using Sprig products today. These Salted Caramel Glazed Donut Balls are so delicious that you simply cannot resist them. Be generous and glaze the donut balls with loads of salted caramel. You can enjoy them as a snack or a dessert. So, time to make these donut balls, glaze them with salted caramel and eat it!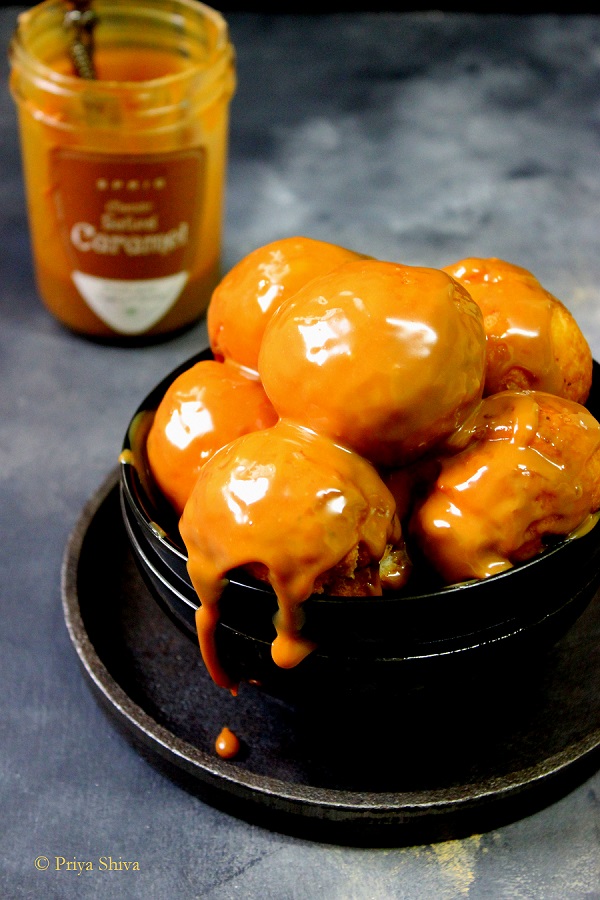 Salted Caramel Glazed Donut Balls
Ingredients
Salted Caramel - 1 cup
All purpose flour - 2 cups
Baking powder - 1 tbsp
Salt - ½ tsp
Granulated sugar - 4 tbsp
Cinnamon powder - ½ tsp
Milk - ¾th cup
Unsalted Butter - 5 tbsp (cold)
Sunflower oil for deep frying
Instructions
Combine the flour, sugar, cinnamon powder, salt and baking powder together in a mixing bowl.
Cut the butter in the flour mixture and mix well. The flour will have a crumbled texture.
Pour the milk in the flour mixture and start kneading to form a stiff dough.
Pinch a portion of the dough and start making small balls.
In a deep frying pan, heat oil. Once the oil reaches 180 ºC, lower the flame.
Gently drop the dough balls into the oil and deep fry them for 2-3 minutes until lightly golden.
Drain excess oil and let the balls completely cool down.
Pour salted caramel sauce over it and serve.
Yum