Holi festival is round the corner. Any Indian festival is incomplete without sweets. So, I decided to share a fusion sweet with you all which combines the flavors of Dulce De Leche and Coconut. So, I made these fudgy Dulce De Leche Coconut Burfi today.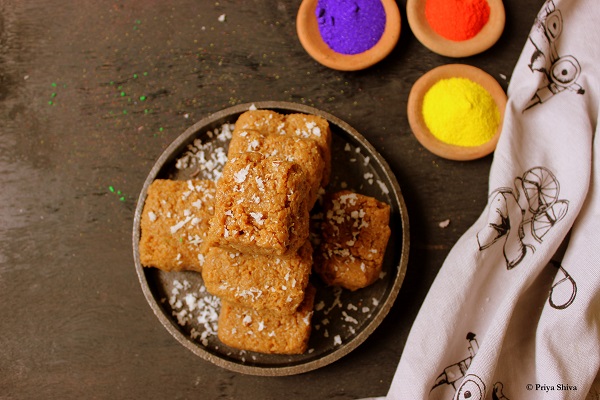 Holi is a festival of colors. It also signifies the end of winter season and arrival of spring. People throw colors on each other, enjoy the festivity with food and drinks. I decided to indulge in Dulce De Leche which I received from Sprig this festival season. It is rich, sticky and totally delicious! The best part about Sprig Dulce De Leche is that it has vanilla flavor in it. So, you need no extra flavoring while using it to prepare desserts.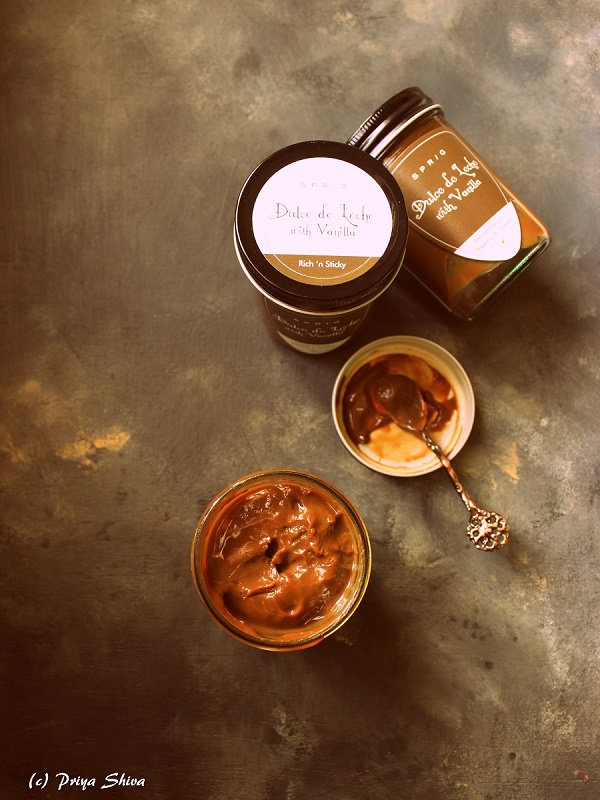 I have already shared few recipes using Sprig dessert toppings like Salted Caramel Banana Biscuit Pudding, Dulce De Leche Nutty Puffed Rice Balls, Salted Caramel Coconut Banana Pancakes. I'm loving every bit of these dessert toppings. You can enjoy them too! Order your share of dessert toppings from Sprig today and make these delicious Dulce De Leche Coconut Burfi for this festival season. Click here to order now!
You just need 3 ingredients and 20 minutes to make these Dulce de leche coconut fudge. Just add ingredients in a pan, cook on low flame and its ready! Wish you all a very happy Holi. Play safe, eat loads of sweets and enjoy..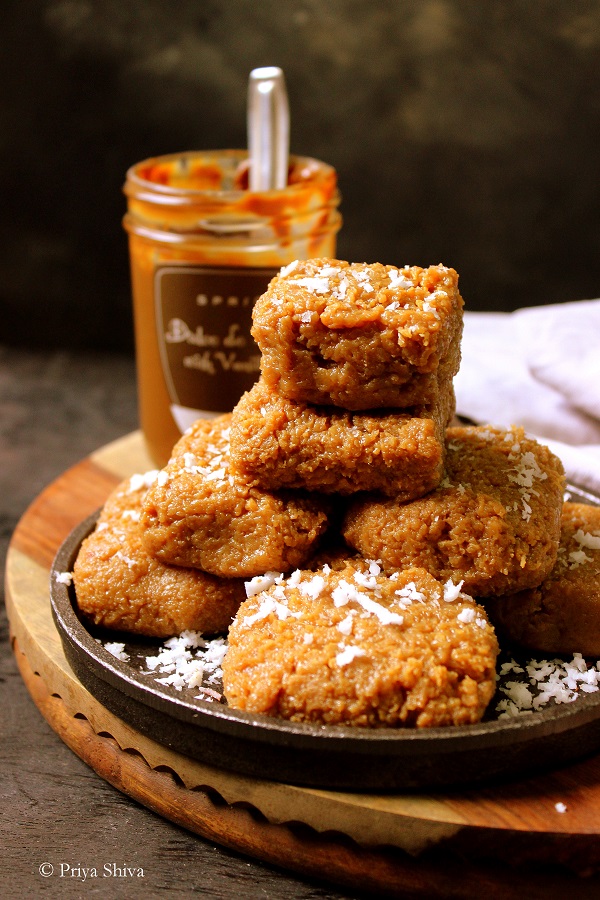 Dulce De Leche Coconut Burfi / Dulce De Leche Coconut Fudge
Author:
Prep time:
Cook time:
Total time:
Ingredients
Freshly grated coconut – 2 cups
Dulce De Leche – 1/2 cup
Condensed Milk – 1/2 cup
Ghee – 1 tsp
Instructions
Grease a plate with ghee and keep it ready.
Add dulce de leche, condensed milk, coconut in a non-stick pan and mix it well.
Heat the pan and cook on low flame. Keep stirring till the mixture becomes thick.
Remove from the stove. Spread the mixture on the greased plate.
Cut into equal pieces when it cools down.
****this is a sponsored post but all opinions shared are mine after trying the product****
Yum