I recently took a short road trip to Wayanad, Kerala. The place is beautiful, serene and a perfect place to unwind yourself. Kerala has many names. Some call it a land of coconuts or even land of bananas! Nendran bananas are most famous in Kerala and I'm sure you would have tasted the Kerala chips some or other time. They also use it to make many other dishes and one of the most famous is Pazham Pori. Pazham pori which is also known as Ethakka appam are nothing but banana fritters which is usually relished as an evening tea time snack. It is made using nendram pazham (nendran bananas).
I have always loved Kerala food. Well, my mom was from Palakkad, Kerala and I have mainly learnt cooking from her. I especially love puttu with kadala curry which is served as breakfast in Kerala. Pazham pori were made on rare occasions as Nendran bananas were not easily available in Delhi. There were times when my aunt used to visit us and she will bring these bananas straight from her estate. This time also we were lucky to visit one of our relatives in Wayanad and I got these nendran bananas from them. So, the first thing I made with these bananas were Pazham Pori. These banana fritters have a sweetness to it and can be made in flat 20 minutes. So, sharing the recipe for Pazham Pori today. Hope you all enjoy making it at home and enjoy with your family.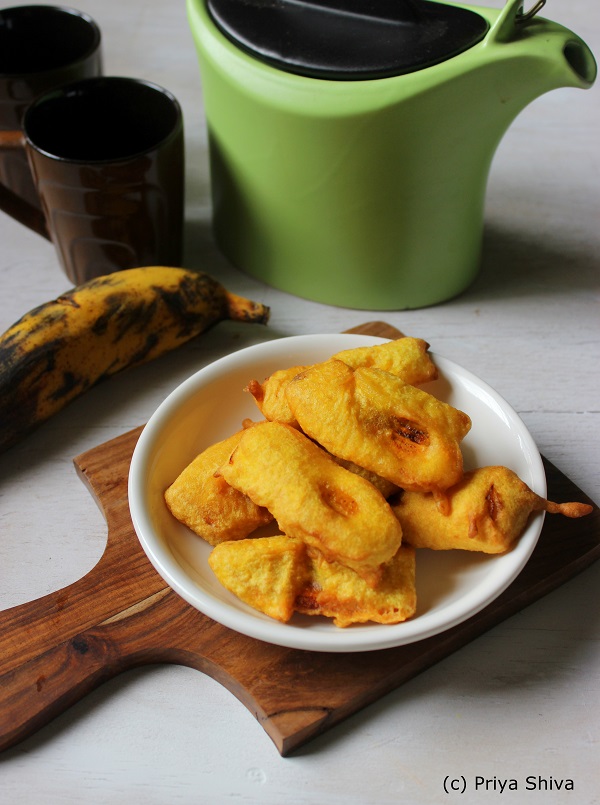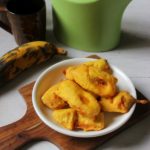 Pazham Pori Recipe
Ingredients
Nendran Bananas - 2

Maida/ All Purpose Flour - 1 cup

Rice flour - 1 tbsp

Baking Soda - 1/4 tsp

Salt - 1/2 tsp

Turmeric powder - 1/4 tsp

Sugar - 1 tsp

Vegetable Oil for deep frying
Instructions
Peel and Cut the banana into 2 halves. Chop them into equal slices.

Add all purpose flour, rice flour, salt, baking soda, sugar and turmeric in a mixing bowl.

Now slowly add water to make a smooth batter. The batter should be thick enough to coat the bananas. So, do not make it a runny batter.

Heat oil in a frying pan.

Dip each slice of banana in the batter and slide them into oil carefully.

Fry till they turn slightly golden brown. Enjoy with your favorite beverage. 
Recipe Notes
Make sure to check if oil is ready. You can check by adding a drop of batter in the hot oil and if it immediately comes on top, oil is ready.
Yum