I had been to a Maharashtrian restaurant recently  where I had Moongachi Khichdi. I usually make dal khichdi with split green gram but the chef in the restaurant had made it with whole green gram. It had a mild flavour of pepper and cumin and tasted simply delicious. I went home and asked my aunt who lives in Mumbai about it and found out that Maharashtrian families usually make it with whole green gram and use goda masala. I did not have goda masala handy but I had recently made some pepper rasam powder and decided to use to make this khichdi.
Click here for the recipe of pepper rasam powder recipe.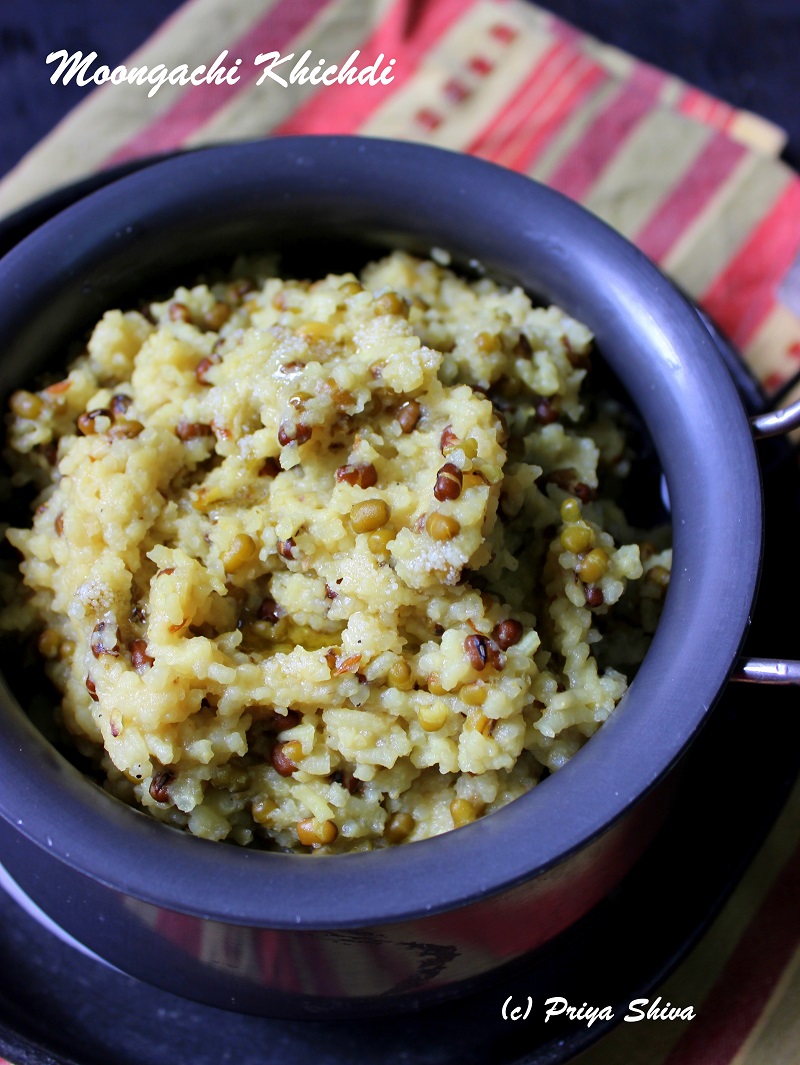 Khichdi is a comfort food which is cooked with rice, lentil and mild spices. It is healthy and comforting. You can even add vegetables to it and make it more nutritious. Click here for recipe of Vegetable dal khichdi. So, sharing the recipe with you all of Moongachi Khichdi with a twist of Pepper rasam powder. Serve it hot-piping drizzled with some Ghee and enjoy it simply with some pickles and papad 🙂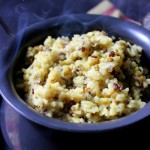 Moongachi Khichdi / Green Gram Khichdi
Ingredients
Rice - ½ cup

Moong dal/Whole green gram– ¼ cup

Turmeric powder - 1/2 tsp

Rasam Pepper powder - 2 tsp

Fresh Dessicated coconut - 2 tbsp

Salt - As needed

Ghee - 2 tbsp

Cumin seeds - 1 tsp

Finely chopped ginger - 1 tsp

Green chillies – 1

chopped

Onion – 1

finely chopped

Curry leaves - 1 sprig
Instructions
Clean and soak rice-green gram in enough water for 30 minutes.

Drain the water and pressure cook soaked rice-lentil with 2 cups of water, salt and turmeric powder. The rice should get mushy and well cooked.

Heat a frying pan, add ghee and temper with cumin seeds, ginger, green chillies, onion. When onions turn translucent, add curry leaves, coconut and give a quick stir.

Now add rasam pepper powder and saute. Add this mix with cooked rice and mix it well.

Drizzle some warm ghee and serve.
Recipe Notes
Add more water if you feel its too thick after rice has been cooked and just boil it once more. Khichdi is usually mushy and soft. Adjust spices according to your taste.
Yum