Saffron cardamom pudding, the name itself must be tempting you to check out the recipe 🙂 Its festival season in India and any festival is incomplete without sweet or desserts. This is one of the easiest dessert you can make especially if you do not have time to make elaborate sweets for the festivity. Don't you love dishes which you can prepare in less time and still absolutely delicious! You can prepare this pudding in no time and it is simply delicious with flavors of cardamom and saffron. You can even add any nuts of your choice and the best part is that its eggless and vegetarian friendly. So, sharing an easy pudding recipe with you all and hope you all have a great festive time.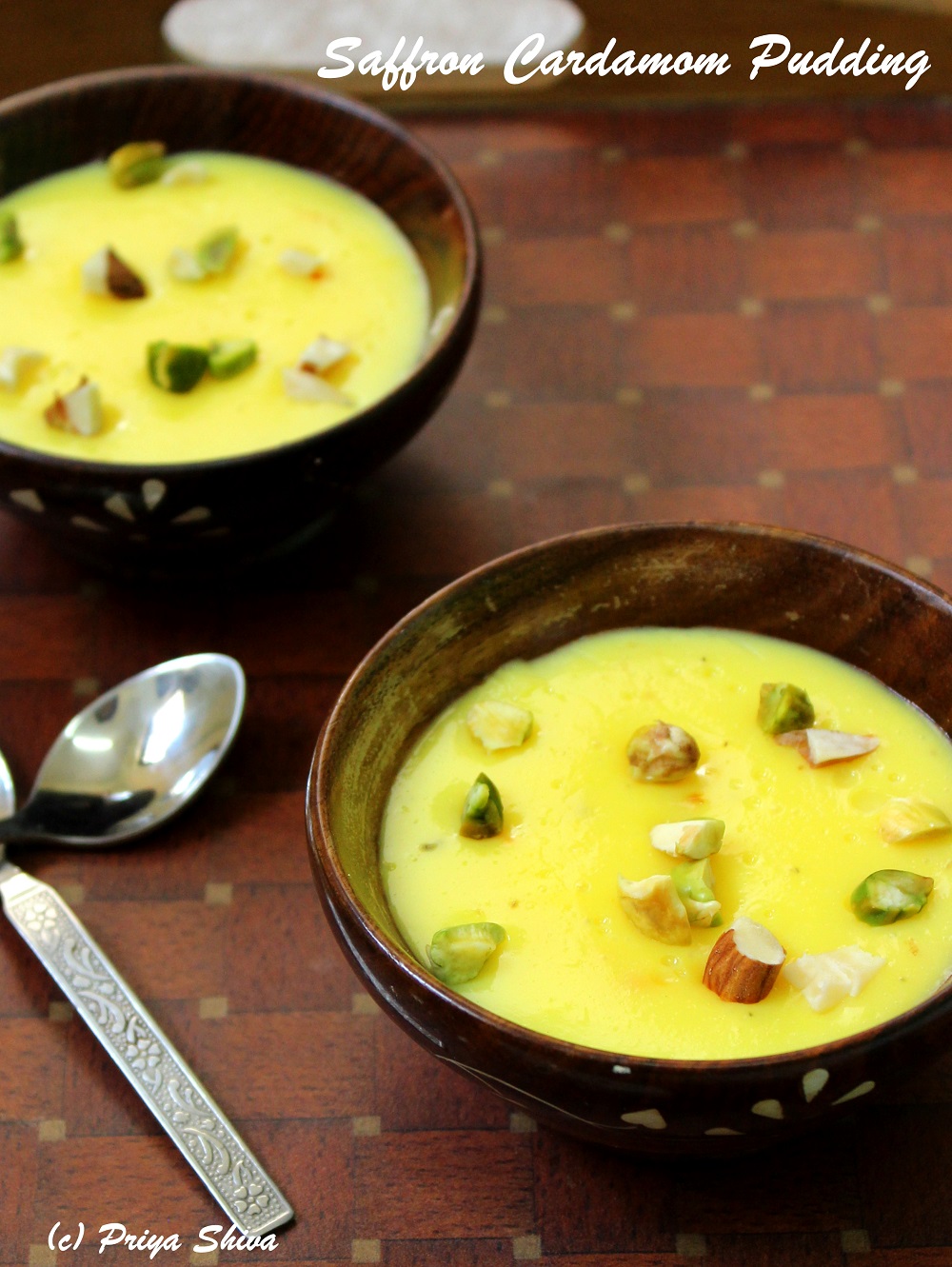 Easy Saffron Cardamom Pudding
Author:
Prep time:
Cook time:
Total time:
A quick and easy pudding with flavours of cardamom and saffron!
Ingredients
Milk – 2 cups
Corn flour – 2 tbsp
Granulated sugar – 3 tbsp
Cardamom – 2 (powdered)
Saffron strands – 8-10
Chopped nuts – 2 tbsp (pistachios, almonds, cashews)
Instructions
Add saffron strands with 2 tbsp warm milk and set it aside for 15 minutes.
Add corn flour and 1/4 cup warm milk in a pan and mix it well. Make sure there are no lumps.
Add remaining milk in the pan with sugar and bring it to boil. Keep stirring.
Add saffron milk, mix well and cook it on low flame for 4-5 minutes or until the sauce thickens. Keep stirring.
Cook and stir until the mixture thickens enough to coat the back of the spoon. Remove from the flame and add cardamom powder and mix it well and keep it aside and let it cool down completely. Transfer the content in serving bowls.
Refrigerate it for 1-2 hours. Garinish with chopped nuts and serve.
Yum