Vegetable Masala Khichdi is an ultimate comfort food which is made with rice and yellow lentil. You can spice up this dish by adding some vegetabales and home grounded masalas. Khichdi is a complete dish in itself and you easily serve it with some curd, papad or pickles. You can easily prepare khichdi in a pressure cooker. I would have never thought of adding this recipe in my blog and a special thanks to Ayesha Clough who wrote a very kind email to me asking for the recipe. It is so good to hear from your readers with feedback and recipe requests. It keeps me motivated to blog and recipe requests gives ideas to prepare my next blog post. 
I also prepared this dish today as I'm not feeling well.  I have added minimum spices but you can add more chilli or garam masala as per your taste. So, sharing the Vegetable Masala Khichdi recipe and wish you all a great week ahead.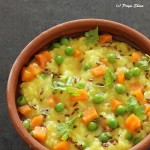 Vegetable Dal Khichdi
Dal khichdi is a comforting one-pot meal which you can easily cook in a pressure cooker. It is prepared with rice and yellow lentil and you can add your choice of vegetables to make it more nutritious.
Ingredients
Rice - 1/2 cup

Moong dal/yellow lentil/split green gram – 1/4 cup

Green peas – ½ cup

Carrot – 1

chopped

Turmeric powder - 1/4 tsp

Homemade Garam masala - 1/2 tsp

Salt - As needed

Ghee - 2 tbsp

Cumin seeds - 2 tsp

Finely chopped ginger - 1 tsp

Green chillies – 1

chopped

Onion – 1

finely chopped

Tomato – 1

finely chopped

Curry leave - 1 sprig

Coriander leaves for garnishing
Instructions
Clean and soak rice-lentil in enough water for 30 minutes.

Drain the water and pressure cook soaked rice-lentil with 3 cups of water, salt, peas, chopped carrots and turmeric powder. The rice should get mushy and well cooked.

Heat a frying pan, add ghee and temper with cumin seeds, ginger, green chillies, onion. When onions turn translucent, add curry leaves and give a quick stir.

Now add tomatoes and garam masala and fry until tomatoes are mushy. Add this tomato mix with cooked rice and mix it well.

Drizzle some warm ghee, garnish with coriander leaves and serve.
Recipe Notes
Add more water if you feel its too thick after rice has been cooked. Khichdi is usually mushy and soft. Adjust spices according to your taste.
Yum