Some days you are just in a mood to have soothing and comforting food and that's when these grandma recipe come for help. You can't think of something more comforting than a glass of  
garlic pepper tomato rasam
. I'm really happy and grateful that my grandma taught me some cooking though at that time I was really hesitant and always used to make excuses to go and play 🙂 🙂 …I realize the value of her teachings today and wish she was with me so that I can thank her and take her blessings..So, I finally decided to make some comforting Garlic tomato rasam and Ennai kathirikkai kulambu for lunch which I enjoyed with some rice. I have already shared the recipe for Ennai kathirikkai kulambu and you can view it by
Clicking Here
.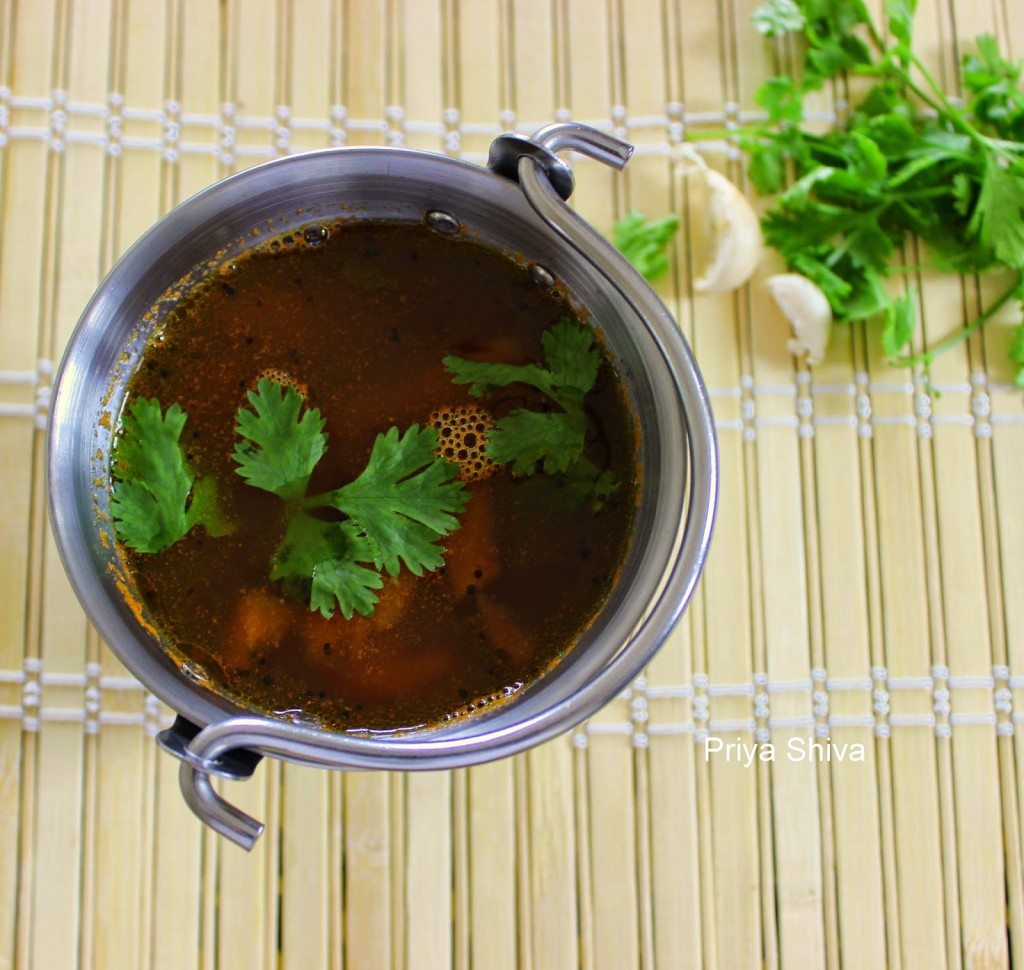 Poondu thakkali rasam / Garlic Tomato Rasam
Enjoy a bowl of comforting clear soup with tangy flavors from tamarind and goodness of garlic!
Ingredients
Toovar dal/yellow pigeon peas split - 2 tbsp (cooked and mashed)
Tomatoes - 2 (chopped)
Cumin seeds/Jeera - 1 tsp
Milagu / pepper corns - 1 tbsp
Dried red chili - 2
Garlic cloves - 4-5
Mustard seeds - 1 tsp
Ghee/Oil - 1 tbsp
Salt to taste
Asafoetida - ⅛ tsp
Turmeric powder - ¼ tsp
Imli/tamarind - 2 tbsp
Curry leaves - 1 sprig
Few Coriander leaves for garnishing
Instructions
Soak the tamarind in 2 cups of warm water for 15 minutes. Now strain it by removing the pulp and add the tamarind water in a pan.
Now add chopped tomatoes, a pinch of asafoetida, turmeric powder in the pan and boil it for few minutes on low flame. Keep stirring in between.
Roast cumin seeds, pepper and red chilies in a small frying pan. Let it cool down and crush it coarsely using a mortar and pestle. Crush the garlic cloves lightly.
Add spice mix and crushed garlic cloves in the pan and mix it well.
Now add the cooked lentil and 2 cups of water into it and add some salt and mix it well. Let it simmer for 2 minutes and remove from the flame and keep it aside.
Take a small frying pan and add 1 tbsp ghee and mustard seeds to it. Once the seeds crackle, add curry leaves and saute for few seconds and add this into the mix and garnish it with some coriander leaves.
Enjoy it with some steamed rice or you can also drink it as a soup.
Notes
Do not cook this dish on high flame. Rasam should always be cooked on low flame as it contains tamarind which can react with metal.
Yum