A relaxed day calls for cooking something special. Ennai kathirikkai kulambu is a South Indian delicacy and one of my family favorite. I'm sharing my grandma's recipe and hope you all will enjoy it. This is a delicious curry made with eggplants (brinjals) filled with blend of spices and cooked in tamarind gravy. The smell itself is captivating and mouth-watering!
This eggplant curry goes well with both rice and flat bread. So, sharing the recipe for Ennai kathirikkai kuzhambu recipe today and I hope you all make it and enjoy it..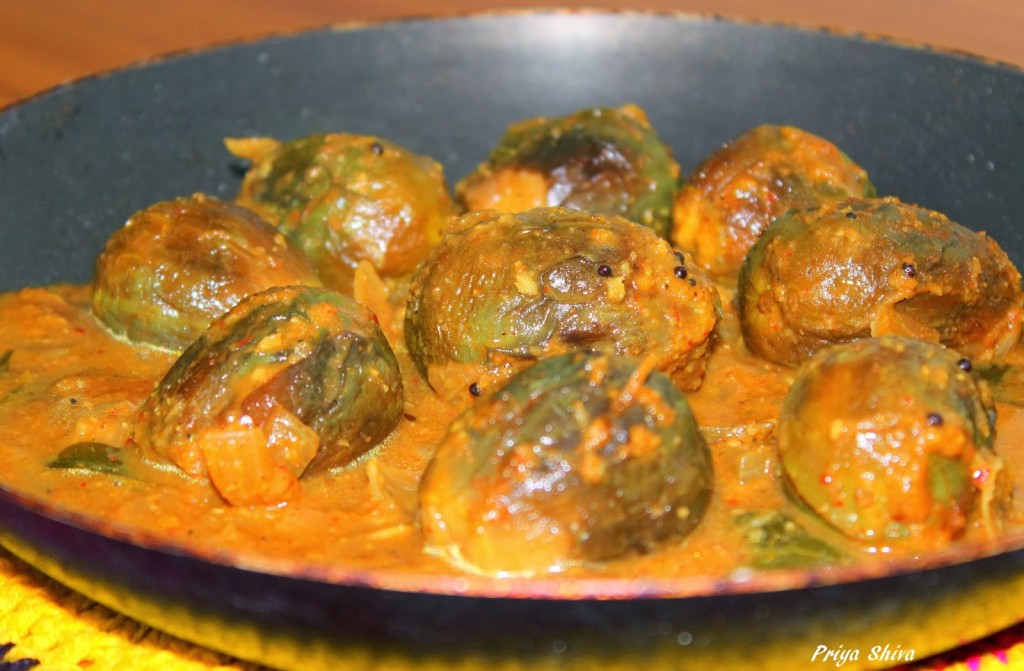 Ennai kathirikkai kulambu / Ennai kathirikkai kuzhambu recipe
Author:
Prep time:
Cook time:
Total time:
Delicious curry made with eggplants and cooked in tamarind gravy!
Ingredients
Baby Brinjal/eggplant – 10
Onion – 1 (peeled and sliced)
Tamarind – lemon size lump
Channa dal/bengal gram – 2 tbsp
Coriander seeds – 3 tbsp
Urad dal /white lentil – 1 tbsp
Dry Red chilies – 7-8
Freshly grated Coconut – 1/4 cup
Fenugreek seeds- 1/2 tsp
Asafoetida – 1/4 tsp
Curry leaves – 1 sprig
Sambar powder – 1 tbsp
Salt to taste
Vegetable Oil – 4 tbsp
Instructions
Soak the tamarind removing the seeds for 30 minutes in 2 cups of warm water. Now drain the water in a separate bowl by removing the pulp.
Heat 1 tsp of oil in a pan and fry Bengal gram,coriander seeds,urad dal,red chillies till white lentil turns golden brown. Now add grated coconut and saute for few seconds.
Let it completely cool down and coarsely ground it in your food processor.
Wash the brinjals and remove the stem. Slit the brinjals by keep the stem intact and fill it with grounded powder.
Heat remaining oil in a pan and add mustard seeds. When they crackle, add fenugreek seeds, asafoetida and curry leaves, onions and saute till onions turn light golden brown.
Now add stuffed brinjals and fry them on low flame for few minutes. Keep stirring.
When brinjals are half cooked, add tamarind extract, turmeric powder, sambar powder, salt and simmer it on low flame till gravy thickens and oil starts floating. Add more water if you feel gravy is too thick.
Enjoy this curry with some steamed rice for lunch or dinner.
Notes
Fry the brinjals on medium or low flame or they will get burnt easily. I've added big onion but you can add small onions too. Always taste the food to adjust the salt.
Yum