I wanted this week's recipes to be children's special as they are the ones who fill our lives with so much happiness and joy. I have decided to treat my son with all his favorites. He was really fascinated with the bread cups I made yesterday and decided to treat him again with them but with a different filling. he loves chocolate and bananas and tried to make a sumptuous breakfast for him. I could see him all smiling and I'm glad I sent him to school in a happy mood.
They are so easy to make that even your children can help you! Check out the video:
So, sharing the recipe for Baked Nutella banana bread cups which can be served as a quick breakfast, snack in lunch box or an evening snack for the whole family.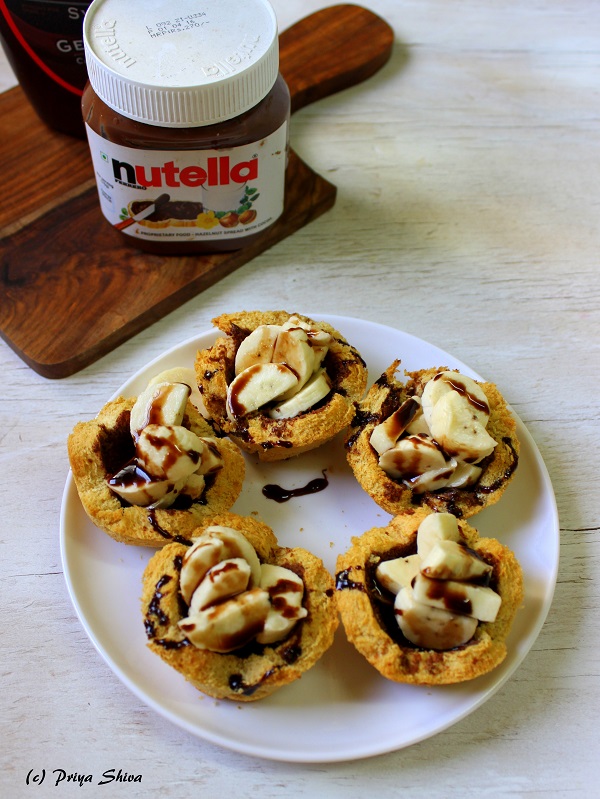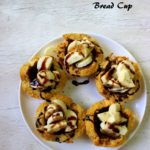 Nutella Banana Bread cups
Make nutella bread cups filled with banana and drizzled with chocolate syrup!
Ingredients
Bread slices - 6

Nutella spread - 3-4 tbsp

Olive oil - 2 tsp

2

ripe banana

peeled and chopped

Chocolate syrup - 2-3 tbsp
Instructions
Preheat oven at 200 degree Celsius.

Cut the bread slices in round shape with the help of a lid as shown in the picture.

Grease a muffin tray with oil evenly.

Spread Nutella on each slice. Place the bread slices inside each cup and push it gently inside.

Bake at the same temperature for 10 minutes.

Remove the pan from the oven and add chopped banana pieces in each cup.

Serve it warm with drizzled chocolate syrup.
Recipe Notes
You can add 1 tbsp lemon juice over the chopped bananas so that they do not turn brown. I did not mind them turning brown and my kid also ate happily :)[br]You can use any type of bread - multi-grain, wheat bread, milk bread..
Yum