Sometimes its so easy to please your children with small things and this is just one example. Children give us so much of happiness filling our day with laughter by their sweet acts. One hug from my little boy and I will completely forget my whole day's tiredness. Its raining heavily in Chennai and no school day. I asked my son to enjoy his day and he cutely replied if he can eat pizza for breakfast..I did not have time to make pizza base as I was packing lunch for hubby but I did not have the heart to say no him. So, made these easy cheesy bread pizza cups which can be a great snack for kids as I could see my son happily enjoying them.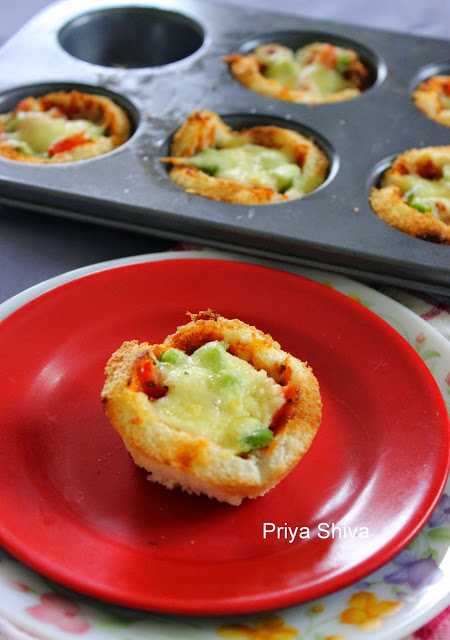 Yield – 12 cups
Ingredients to make Pizza:

Multi-grain Bread slices – 12
Pizza sauce – as required
1 Capsicum finely chopped
2 Tomato finely chopped
Red Chili Flakes – 1/2 tsp
Oregano Garlic flakes – 1/2 tsp
Black pepper powder – 1/2 tsp
Salt to taste
Grated Mozzarella cheese – 1 cup
Olive oil – 2 tsp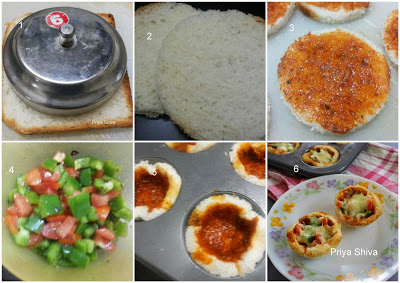 Method:

1) Preheat oven at 200 degree Celsius.
2) Add chopped capsicum, tomatoes in a bowl along with oregano flakes, chili flakes, black pepper powder, salt and mix it well.
3) Cut the bread slices in round shape with the help of a lid as shown in the picture.
4) Spread pizza sauce on each slice.
5) Grease a muffin tray with oil evenly. Place the bread slices inside each cup and push it gently inside.
6) Add the chopped vegetables filling. Top it with some grated mozzarella cheese.
7) Bake at the same temperature for 8-10 minutes.
Remove the pan from the oven and serve it warm.


Tips:
1) You can add seasoning of your choice.
2) You can also add any vegetable of your choice.
2) You can use white bread, brown bread. Every oven setting is different. So, do not over-bake or they will become too hard and crispy..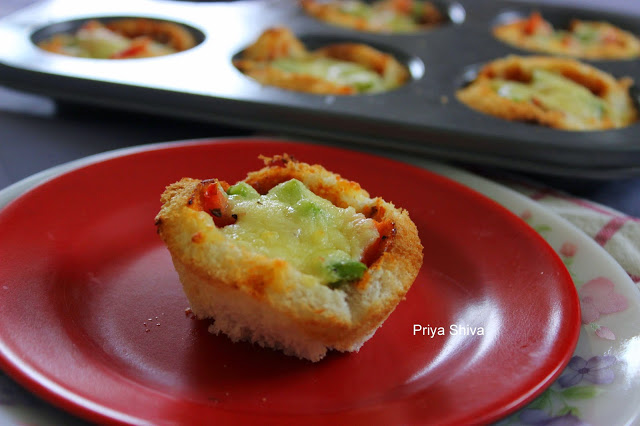 Yum