I'm a big fan of bell pepper and I love them the most in my
Pizza
. I love to have even a
bell pepper stir fry
 or a
reshmi paneer curry
with some phulkas. I made some bell pepper chutney today which I had with some
Kuzhipaniyaram.
 Its an easy recipe and you can relish it with any dosa, idli, pongal etc.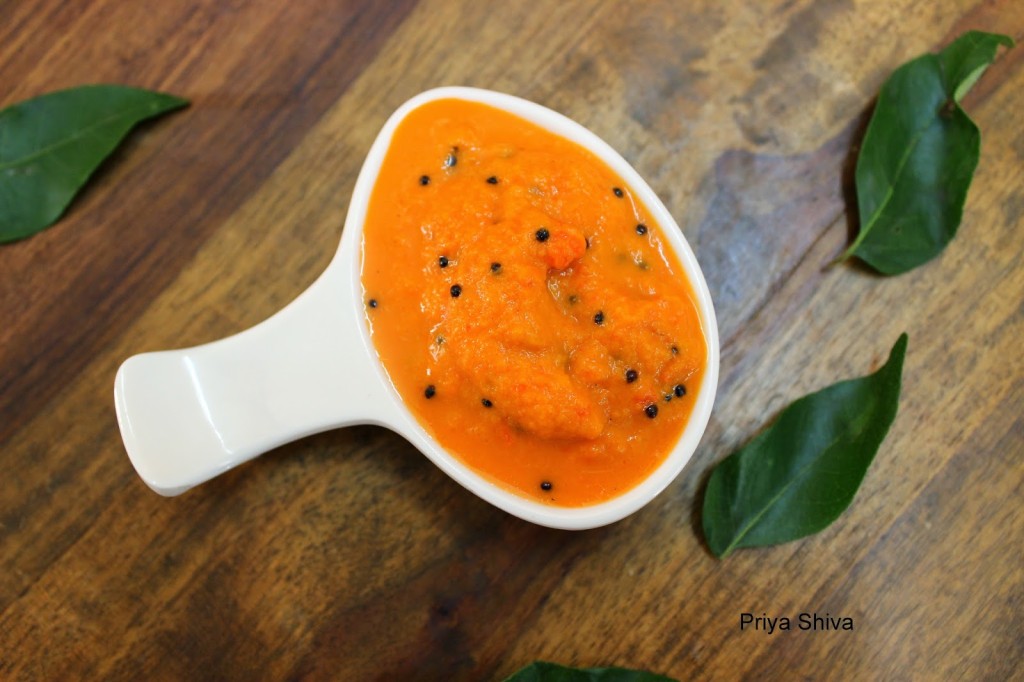 Red Bell Pepper Chutney
Author:
Prep time:
Cook time:
Total time:
Easy, peasy chutney recipe made with red bell pepper!
Ingredients
1 Red bell pepper (remove seeds and chopped)
1 Onion (peeled and chopped)
Chopped green chilies – 1 tsp
Tamarind – a small lemon size
Chana dal/ Split chickpeas – 2 tbsp
Salt to taste
Asafoetida – a pinch
Mustard seeds – 1 tsp
Few curry leaves
Cooking Oil/Sesame Oil – 2 tsp
Instructions
Add 1 tsp oil in a frying pan and add white lentil, a pinch of asafoetida and chana dal. Roast on low flame till they turn light brown.
Now add green chilies, tamarind, red bell pepper, few curry leaves and onions and saute.
When onions turn light golden brown, transfer the content in a bowl and keep it aside and let it cool down completely.
Add the content in your blender and blitz it until smooth. You can little water if you feel its too thick. Transfer it into a bowl and add salt to taste.
Add 1 tsp oil in a small frying pan and add mustard seeds. When mustard seeds crackle add it into the chutney.
You can serve this chutney with dosas, idlis etc.
Yum