Sometimes you just need a simple vegetable to serve with chappathis or rice. So, I made this simple stir fry vegetable with Green Bell Pepper, Carrot, Potato and blending it with some spices.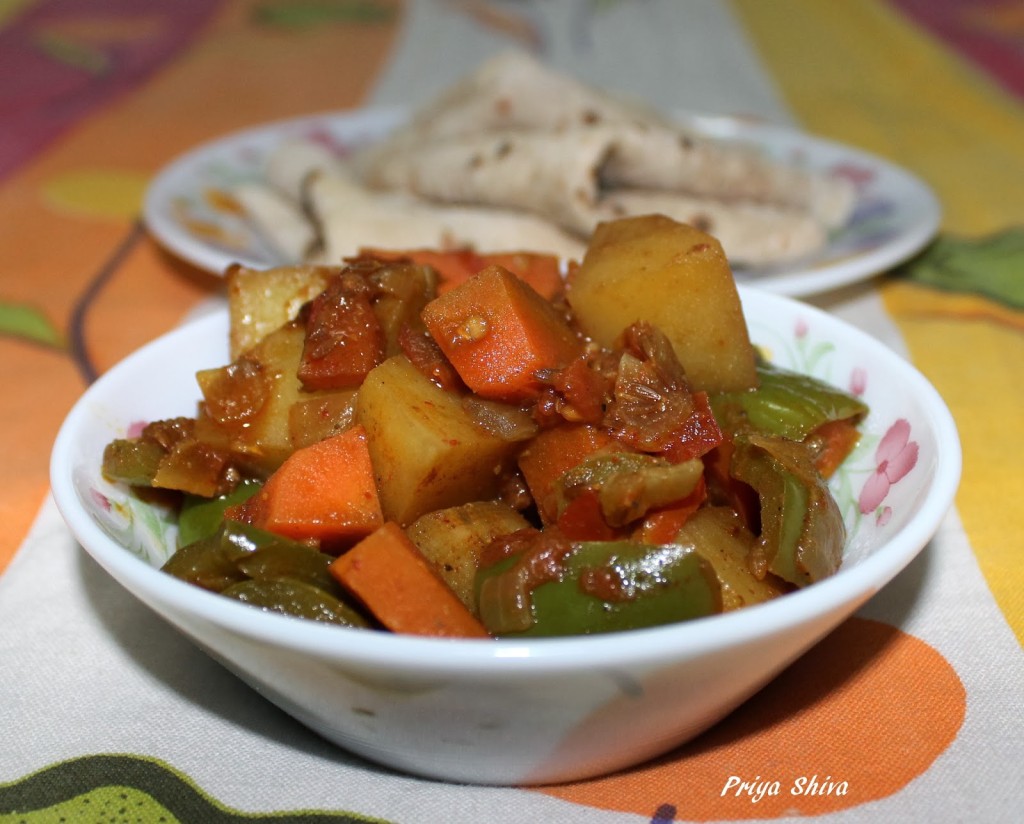 Ingredients:

Chopped Capsicum – 1 cup
Peeled and chopped potatoes – 1 cup
Peeled and chopped carrots – 1 cup
Finely chopped tomatoes – 1 cup
Finely chopped Onions – 1/2 cup
Grated Ginger – 1 tbsp
Asafoetida – a pinch
Cumin Seeds – 1 tbsp
Turmeric powder – 1/2 tsp
Red Chilli powder – 1 tsp.
Dry Mango Powder/Amchur Powder – 1/4 tsp
Garam Masala – 1 tsp
Cooking Oil – 1 tbsp
Salt to taste

Method:

1) Heat oil in a non-stick pan and add asafoetida and cumin seeds. When cumin seeds crackle, add the ginger and finely chopped onions and fry till onions turn golden brown.
2) Now add finely chopped tomatoes and fry for few minutes on low flame till tomatoes become soft.
3) Add turmeric powder, garam masala, amchur powder and red chilli powder, and mix.
4) Add chopped potatoes, carrots, capsicum and mix well. Fry them for 5 minutes and medium flame and keep stirring in between.
5) Add salt to taste and sprinkle some water on it. Close the pan with a lid and let it cook on low flame till the vegetables are cooked and soft. Keep stirring in between.

Transfer it in a bowl and serve hot with some roti.

Tips:
Always taste the food before serving to adjust the salt and spices.
Yum